Lifetime's John Stamos On How He Became Your Crush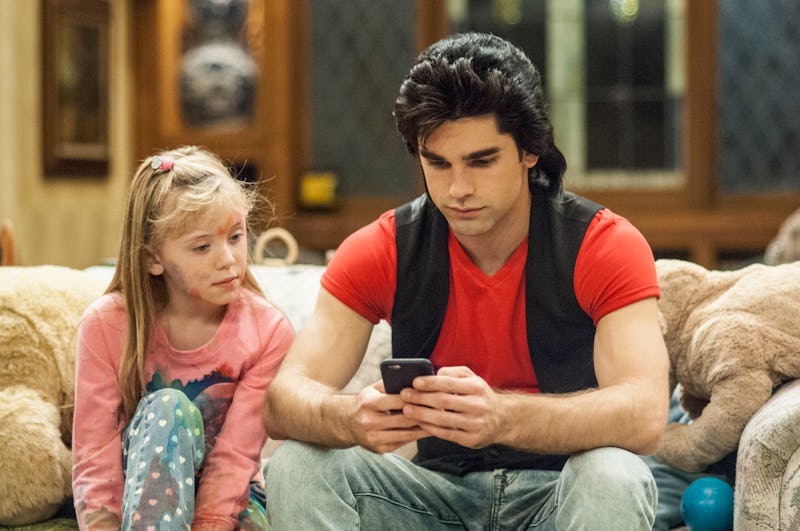 There was probably a point in your life where you had a little — OK, maybe huge — crush on John Stamos. Whether it was his role as the coolest uncle ever on Full House, his legendary performance as Blackie Parrish on General Hospital, or even his ability to make you crave Greek yogurt, you loved him. For Justin Gaston, who plays John Stamos in The Unauthorized Full House Story , that "heartthrob" status was definitely in his mind as he prepared for the movie. "He was such a heartthrob, and still is," Gaston says. "I think that definitely adds some pressure."
As "a big fan of the show growing up," Gaston took on the Stamos role with every intention of honorint the actor. "It's tough, because you know [Stamos] can see [the movie]," he says, "And he's so beloved by people. You're like 'I've got to get this right'... You do your best to try and live up to him and the iconic character."
For Gaston, becoming John Stamos was a "quick process" (he had about one week before he was in Canada to film the movie), but in order to prep for the role, he took on some research that many fans probably conduct themselves on a lazy weekend afternoon. "I immediately started from the beginning of [Full House], watching episodes," he says. Gaston also would also watch clips of Stamos on General Hospital, movies he starred in, and old interviews of the actor.
Though Gaston says it's possible some of his personality will leak into the role, he "tried to be true to him and the character."
One thing that didn't get to happen for Gaston before taking on the role was the chance to speak to the real John Stamos. "That would have been really nice to pick his brain," he says.
But would the actor want to meet Stamos now that the movie is coming out? "As long as he's not mad at me," he jokes. If his preparation for The Unauthorized Full House Movie is any indication, Gaston shouldn't have anything to worry about.
Images: Sergei Bachlakov/Lifetime (2)