Firefighters Awesomely Prank Guy Who Lost A Phone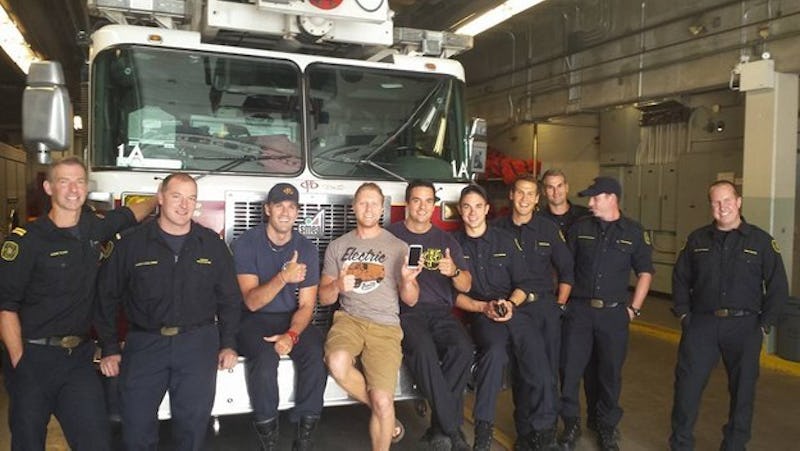 What's the best case scenario when you lose your phone in a river? Nathan Buhler got lucky, because firefighters found his phone and posted pictures to Facebook with a message for Buhler to come pick up his phone. When you lose your phone, you assume it's gone forever, or hope for days on end that someone will call whoever is at the top of your outgoing calls list to say they found it. And when you drop your phone in water, I think it's fair to say that you run around looking for rice and then pronounce your phone dead 15 minutes later. But Buhler, who lost his phone while floating down the Bow River in Alberta, Canada, clearly had a whole different experience.
The firefighters are not only miracle workers who casually found the phone IN THE RIVER, they also have a sense of humor, because they took the phone around for a day in the life of a firefighter. The phone ate lunch with the firefighters, worked out with them, even drove the truck — which I'm personally very jealous of.
I was overwhelmingly curious as to what kind of phone had survived the drop into the water. According to Buhler, it was a Samsung Galaxy 4. He told Bustle, "The day after I lost it, I went and bought a Galaxy S5, which I'm using now. I had a huge sense of relief because I didn't have the S4 backed up and thought I had lost 16 months worth of everything saved on it."
He continued, "It went from being a sad loss to a fun and comical story smile. It was hard to believe it had been found!"
Here are the adventures of his magic phone:
The Picture The Firefighters Posted Telling Nathan To Come Get His Phone
The Phone Having Lunch With Da Boys
The Phone Playing Ping Pong
And Working Out
And, Finally, The Phone Reuniting With Its Owner
It's like Baby's Day Out, only different. Cheers to these firefighters.
Images: Courtesy Of Nathan Buhler