3D-Printed Tool To Help Visually Impaired Navigate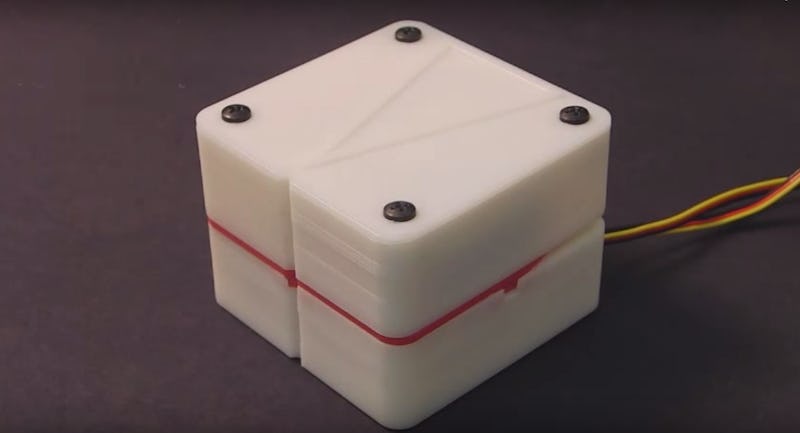 The Animotus is a simple-looking cube with a lot of potential: It's an easy-to-use navigation device for visually impaired and sighted people, one that could transform the way that all of us get around. The device was created by Adam Spiers, a postdoc in robotics at Yale University, who specializes in haptics (a field which focuses on the sense of touch). The 3D-printable Animotus works through movement: the top half of the cube moves to the left or right according to which direction the user needs, and it moves forward to indicate how far he or she needs to move. At just over an inch and a half high and under two and a half inches in length, the device fits easily in the user's hand.
In its current version, the Animotus navigates by connecting wirelessly to location sensors installed in a specific space. Spiers told Popular Science that he hopes to adapt the device to be used with smartphones and other GPS devices so that it can be taken outside. Spiers believes that haptics-based devices rely too often on vibration and sound as cues, which can become irritating. Silent and relying on touch and motion only, the Animotus tells people where to go, without interfering with their perceptions of the world around them. The Animotus allows sighted users to get around without having to constantly stare at a screen, and it offers visually impaired users a guide that doesn't distract them with vibration and noise.
Spiers teamed up with Extant, a theatre company in the U.K., to test out the Animotus in an unusual setting: an interactive theatrical adaption of Flatland, Edwin A. Abbott's 1884 novella about a two-dimensional world. In the play, the audience, made up of both sighted and visually impaired members, navigated an old church in total darkness using the Animotus. The devices took them to different locations around the church, where they could hear sound effects and spoken parts of the narrative.
At the end of the play, the audience members had to give up their navigation devices, and they were treated to sounds indicating that the Animotuses had been destroyed. Spiers told Yale News, "Some people found this very upsetting. It's about 40 minutes that they were in there with the Animotus, so they got pretty emotionally attached to it."
Images: YouTube (3)