'Billy On The Street' Got Slapped By An Older Lady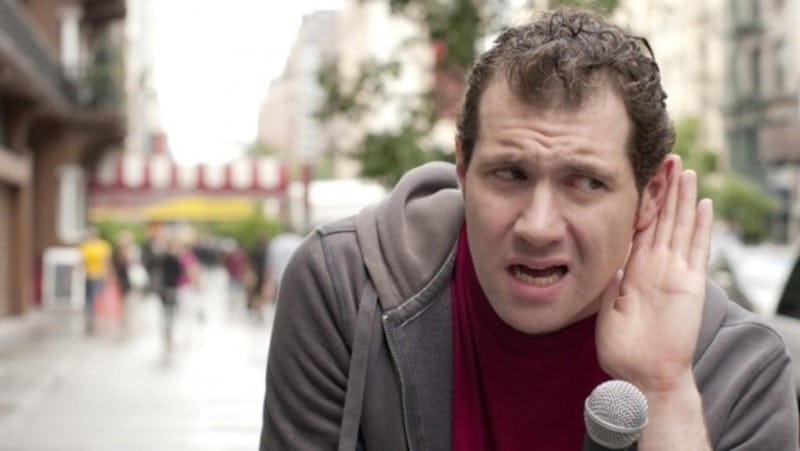 Aside from the bevy of A-list celebrities it manages to snag, one of the more impressive elements of Billy Eichner's Billy on the Street is Eichner's physicality. Constantly running, yelling, jumping, and running some more, Eichner is in an eternal frenzy. So when I sit down with the host, now entering his fourth season of show, I wonder how his crew — that is, the producers, camera men, and everyone else contributing to the show — keep up with his hectic movements. "What does your crew look like?" I begin, before being interrupted by Eichner. "Oh, they're white. All white. And very fit. We have a scale next to me on the street that we have to weigh them in," he says without missing a beat.
"I have about 15-20 people behind me," Eichner says in seriousness. "The PAs get releases from all the people I talk to, producers to keep track of the questions, a producer to keep track of the money — cause when you're giving away money there are rules — even if it's just a dollar you have to follow certain procedures," he says. "Our camera team is f*cking insane. I'm running down the street with Chris Pratt — full on running — they're running backwards, holding cameras on their shoulders in the streets of Manhattan where no one's even looking for them. No one gives a shit about my camera guys. They are relentless and they really love the show and I'm really grateful. They are f*cking kickass."
Another important element to his crew is security, because as Eichner explains, "You can't run around with someone as well known as Sarah Jessica Parker and throw her to the wind — though she'd be willing — but still not the right thing to do."
But he doesn't worry about security for himself, for while he often startles strangers he approaches, rarely do they act out in a violent manner. "One old lady slapped me across the face a long time ago. I said something sexual to her and I guess she was like a nun or something," the 37-year-old comedian says. "I said something about a blow job and she slapped me hard across the face, which I thought was hilarious. People might not engage with me, 9 out of 10 people walk away, but getting physically violent is not something that has happened. I'm sure the fans would like that, but I'm not dumbing down the show, it's not f*cking The Real Housewives of Atlanta."
Billy on the Street's Season 4 premieres Thursday, Oct. 8, at 10:30 p.m. (ET/PT) on truTV.
Images: truTV; Tumblr