Kate Spade's Latest Project Will Make You Hungry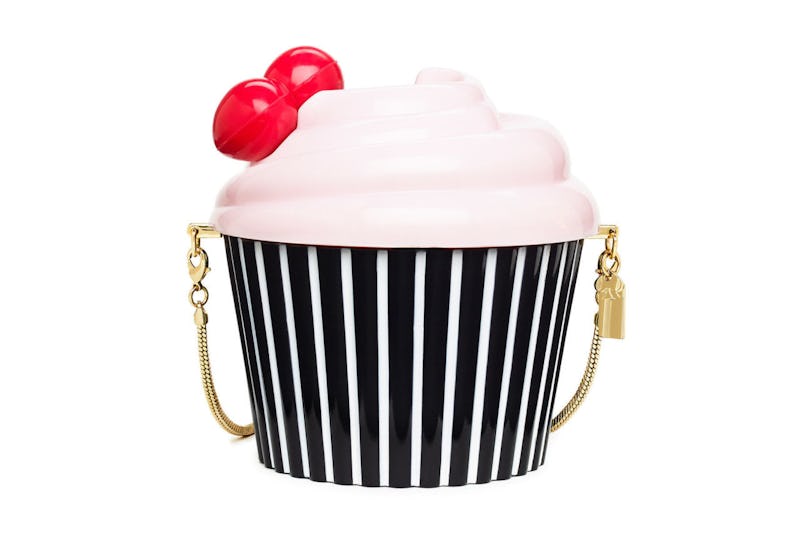 Fashion and food have long been known to go hand-in-hand. First came the McDonald's-themed red and yellow clothing from Moschino, then Chanel created the bagel bag, and now another brand is hopping on the fashionable food bandwagon. Kate Spade teamed up with Magnolia Bakery for — you guessed it — a cupcake-themed handbag line, and the adorable collection has our inner toddler jumping for joy.
The capsule collection includes purses and clutches shaped like cookbooks, pudding cartons, and full-fledged cupcakes in pretty pastel shades, all inspired by Magnolia's signature sweet treats.
If you're not familiar with the NYC-based bakery, let me just assure you, their pastries are like little slices of heaven. While their colorful cupcakes are to die for, the famed bakery is best known for their Banana Pudding — a unique blend of bananas, creamy custard, and vanilla wafers. Thankfully, this delicious concoction made the cut, and you can now literally wear it around your waist.
Kate Spade has a certain knack for nailing cutesy object-themed designs including everything from doggie purses to mushroom-shaped clutches. It was only a matter of time before the brand tackled desserts.
The line ranges from $78 to $348 and will be available on October 12th at katespade.com.
In the meantime, feast your eyes on the some of the deliciously stylish designs.
I'm pretty sure Charlotte's daughter, Lilly, had one of these on Sex and The City — such a New York staple.
This banana pudding purse looks so much like the real thing, I may even try to take a bite.
A tote bag to carry around all the Magnolia cupcakes we'll be buying, of course.
Is it bad that I really want to eat this?
Images: Kate Spade (6)