'Rolling Stone's Best Albums of the Year is a Black and White List. Literally.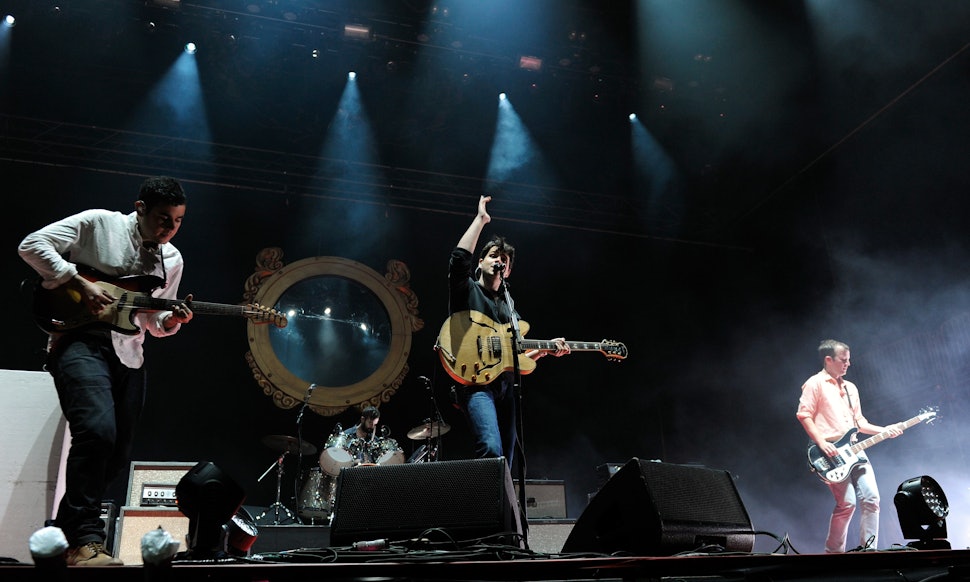 Ethan Miller/Getty Images Entertainment/Getty Images
Rolling Stone has just released its 50 Best Albums of 2013 and it's everything you'd expect from the press giant: loads of indie, nods to rock's forefathers, the "artsy" hip-hop, and a few nagging personas (Miley and Eminem). Vampire Weekend's Modern Vampires of the City landed at the top spot — horchatas for everyone!
I did notice a fascinating trend of this year's top 10 —nearly all of the album covers were in black and white. Aside from Sir Paul McCartney, Kanye West, and Queens of the Stone Age, who used pops of color against an monochromatic scheme — all of this year's best albums went old school with the artwork. And I think that says quite a lot about the artists who landed in those top spots. The music they created is complex, evolved, and eclectic, and the music really does speak for itself. It doesn't need a shocking image to start a conversation. Heck, just look at Beyoncé's cover. Just one word in pink across a black background and we were all SOLD.
Let's take a look at the album art of this year's 10 best album to see what it said about the year in music.
No. 1 Vampire Weekend 'Modern Vampires of the City'
Vampire Weekend established themselves in 2013 as the band who will not stop surprising you. The album hit a chord with audiences who related to the overwhelming nature of the day you wake up and realize you're an adult. And there's no going back. Just look at the vintage New York skyline. Beautiful? Yes. Scary? Completely.
Image: Neal Boenzi/ XL Recordings
No. 2 Kanye West 'Yeezus'
Whether you love him, hate him, or hate to love him, you can't deny that Kanye West was everywhere in 2013. Despite West's disputable public persona, his music is still the reason why we all keep our eyes on him. And like this old-school CD tells us, you can pirate all you want, it just means more Yeezus. Without any actual album art, well, you just have to listen to this to judge it, don't you? Though it does bear a striking resemblence to a New Order album cover. KANYE. YOU AND YOUR POLITICS.
Image: Roc-A-Fella-Records & Def Jam Recordings
No. 3 Daft Punk 'Random Access Memories'
Would your summer have been your summer without "Lucky"… nope, probably not. But beyond the catchiest dance hit in years, Daft Punk's album brought us all back to the reason why we fell in love with the masked techno spacemen in the first place. They take us to strange and distant places with grooves and beats from our past and into the future. The artwork just gives it to you straight: this is Daft Punk.
Image: Columbia Records
No. 4 Paul McCartney 'New'
Don't be that guy at the party who says he never "got" the Beatles. No one likes that guy. And guess what? Everyone liked Paul McCartney's latest album. With arrangements and producers much younger than his usual arsenal, McCartney delivered the pop we know and love while proving why he is the ever-present legend that he is — he's far from being done and has plenty more to create. You wouldn't first look at the cover and think "Paul McCartney," and maybe that's exactly what he was going for.
Image: Ben Ib/Virgin EMI Records
No. 5 Arcade Fire 'Reflektor'
What feels like Arcade Fire's most modern, dance/synth-driven album features a most classical cover. Though it certainly evokes all the feels that Arcade Fire knows how to give. 2013 wanted you to just be real with your emotions. And maybe dance it all out.
Image: Merge Records
No. 6 Queens of the Stone Age '...Like Clockwork'
Okay apparently 2013 was a year in music for Vampires all around. Queens of the Stone Age returned with the back-to-basics sweat-and-blood covered rock n' roll we all sorely needed injected into the radio waves. The album art is as rock n' roll as it gets. No frills, no make up, no stupid leather vests.
Image: Matador Records
No. 7 Lorde 'Pure Heroin'
Lorde is the only newcomer in Rolling Stone's Top 10. The "Royals" hit-maker proved there was a lot of substance behind her success. The 16-year-old New Zealander established herself as the female artist to watch. She's as straight-forward with her album art as she is with her music and public persona.
Image: Universal Music Group
No. 8 The National 'Trouble Will Find Me'
The National are the moodiest broodiest band of brothers this side of the Brooklyn Bridge. They announced their arrival into the major leagues with their last release High Violet. And Trouble Will Find Me finds the bind in a more subtle and more vulnerable place. Beringer breaks your heart with the simple evocation of the line, "I need my girl." The album art sort of looks like drowning, and listening to it feels that way, in that very beautiful way that only The National can pull off. They're the band whose fans keep growing up with them and we all wait on pins and needles for what they'll do next. Who needs the next best thing when your favorite thing is already the best thing?
Image: 4AD
No. 9 Arctic Monkeys 'AM'
Does the Artic Monkey's fifth offering make you sort of feel like they're staring into your soul and making you trip out simultaneously? Good, good. I think that's what the Brit rock n' rollers were going for. In their most LA sounding album yet, Arctic Monkeys have totally embraced the West Coast vibes and just want to show you a retro good time. Proving that in 2013, you can have the party, and still do something profound.
Image: Domino Recording Company
No. 10 John Fogerty 'Wrote a Song for Everyone'
Whether he's re-visiting his days in Creedence Clearwater Revival or mastering his solo work, John Fogerty took this album as a means of displaying the diversity and necessity of his songwriting in our ever-bombastic music world. He's the only artist on this list whose face appears on the album art (Daft Punk sort of counts). And maybe that says something about his confidence and status in the industry. He pairs up on the album with the likes of Bob Seger, the Foo Fighters, My Morning Jacket and many more, but it's really all about Fogerty and his craft in the end. And, well, see whoever you want at Coachella, but try and find the figures who you think might actually be around for a few decades.
Image: Vanguard Records