Reveal! 'What Is Punk?' Raises Riot Grrrl Toddlers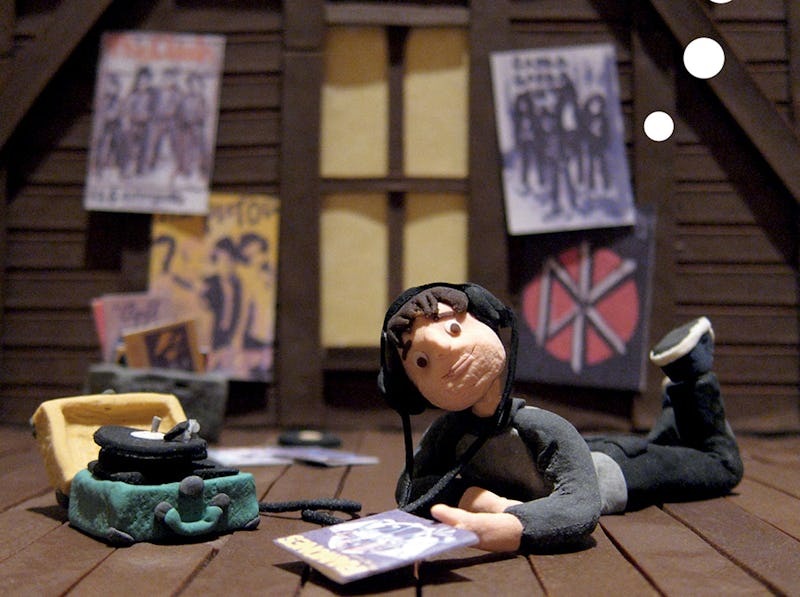 The Sex Pistols, Debbie Harry, Siouxie Sioux — these aren't your ordinary children's book topics. But author Eric Morse and illustrator Anny Yi are saving parents (and aunts and babysitters) from having to listen to Raffi or the Frozen soundtrack for the billionth time by introducing toddlers to the counter-culture glory of punk music in their new picture book, What Is Punk? Pairing Yi's Wallace & Gromit-style clay pictorials with Morse's rhyming ride through the history of punk music across the globe, the children's book is ready to raise the next generation of riot grrrls. And luckily, Bustle has joined with indie publisher Black Sheep / Akashic Books to give you a peek at the pages of this badass book.
Morse had the idea for What Is Punk? when he misread the title of the book This Is Pink. "I thought, 'I wouldn't read that to my daughter. But I'd read her This Is Punk!'" Morse said. "From that point onward, the idea was lodged in my head: teach the kids about punk."
CLICK HERE TO BUY: What Is Punk?
The author goes on to describe his motivation for the unique picture book:
What was once a movement is now a sprawling and segmented culture. As punk iconography now permeates nearly every corner of our culture, the next generation of music lovers is learning about it from distant descendants of the movement's founding fathers and mothers. With this in mind, I set out to impart the energy, excitement, and revolutionary spirit of those early days of cultural shift. Working with Anny Yi provided the perfect kid-friendly visuals to accompany the complex undercurrents for this unique moment in time.
But it's nearly impossible to talk about What Is Punk? without admiring Yi's crazy-cool artwork. Check out four spreads from the interior of the book. (Click the images to see them in a larger size!)
From the borough of Queens / came contenders to the throne: / in blue jeans and leather, / four teens called RAMONES
They got straight to the point: / a one, a two, and three four, / "Hey ho, let's go," / two-minute songs—never more.
That's right, the Sex Pistols— / a name naughty as can be— / would harass the upper class, / with songs of Queen and anarchy.
They hoped that their sound / would never be forgotten. / So they made up silly names / like Sid Vicious and Johnny Rotten.
Punks made a lot of noise, / they had something to say. / And just like the boys, / the girls came to play
Siouxsie, Go-Gos, and Blondie, / X-Ray Spex and the Slits / all made a holy racket / with their glitter and their grit.
(Also, all the hollers to this spread.)
Out West in sunny LA, they live close to the beach. / Bands like X and Black Flag had a punk gospel to preach.
The Descendents and the Dickies, Circle Jerks, Germs, and Weirdos, / were all punks who had fun and kept fans on their toes.
You're going to want to give What Is Punk? as a gift at every baby shower this year. Just don't be surprised if your niece ends up bleaching her hair blonde and tearing up her leather jacket at age six.