Golden Globe-Nominated Taylor Swift's 5 Most Candid Awards Show Moments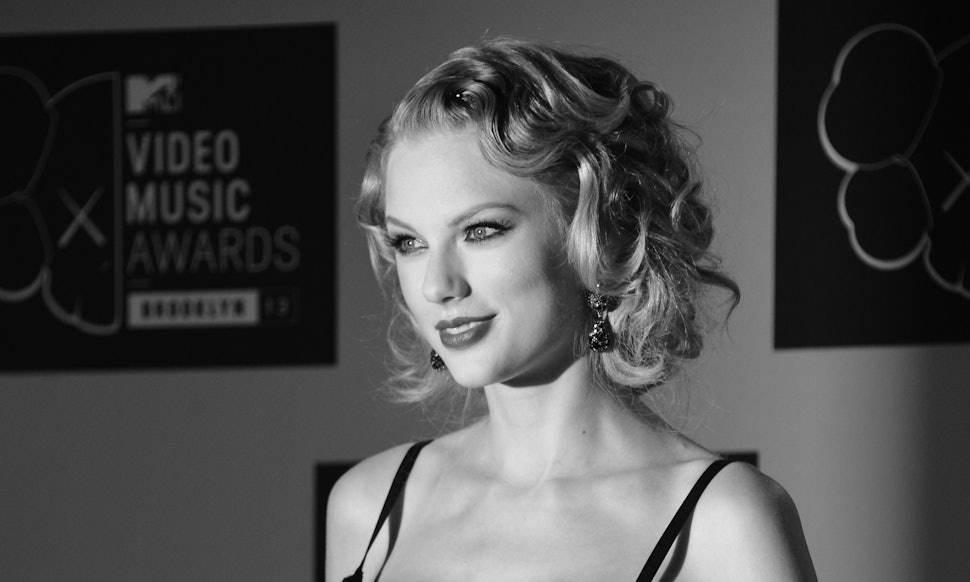 Stephen Lovekin/Getty Images Entertainment/Getty Images
Taylor Swift has earned many headlines for her multiple reputations in Hollywood. Some of them aren't necessarily deserved, like her man-eater status. But some of them are, like her oh-so-fake surprised face at awards shows. But, ahead of the 2014 Golden Globes — which Swift will attend for her Best Original Song nomination for Once Chance's "Sweeter Than Fiction" — Swift shed her uber-fake awards show persona, giving audiences a handful of over-the-top honest moments caught on camera in 2013. Click on to see them!
Shut Up, Harry Styles
At the 2013 Video Music Awards, Swift was the victim of unfortunate reaction-shot timing… but she really should have seen it coming. When her very famous ex Harry Styles and the rest of his One Direction cohorts were thanking their fans (Directioners) for supporting them, the cameras cut away to Tay just in time to catch her mouthing "shut the fuck up" to BFF Selena Gomez. Taylor Swift + the F Bomb = Honest moment. That's not Kennedy-approved behavior.
Thanks, Jerk
Speaking of Harry Styles and the tragic end of Haylor, Swift let her sass ring out loud and proud when she knew the cameras were rolling at the VMAs. During her acceptance speech for Best Female Video for "I Knew You Were Trouble" (which is widely speculated/basically known to be about Harry Styles), Swift thanked the man who inspired the track, quipping: "I also wanna thank the person who inspired this song, who knows exactly who he is, because now I got one of these!"
Congratulations, Adele (JK NOT REALLY)
Taylor Swift is probably gunning for an EGOT because, well, she's Taylor Swift and her to-do list almost certainly includes "take over the world," so an EGOT really isn't that much to ask for, relatively speaking. Now, the G in EGOT doesn't stand for "Golden Globe," but that didn't stop Tay from shooting Adele a major stank face when she beat her out for Best Original Song at 2013's ceremony.
Mick's the Pinnacle
Okay, okay, maybe we're being a little hard on Swift. She's had some honest moments that weren't unflattering reaction shots too. Ironically, the most genuinely surprised Swift has ever looked while receiving an award was when she was told ahead of time that she had won. At the 2013 CMAs, the singer was honored as the youngest recipient of the Pinnacle Award. During a tribute video, stars like Mick Jagger, Justin Timberlake, and Ellen DeGeneres praised Swift — and her reactions are completely adorkable.
Dating Diss
When Swift and bestie Selena Gomez were making their way through the backstage labyrinth at the Billboard Music Awards, the singer won the Internet with her reaction to Gomez's more-polite-than-necessary greeting with her ex, Justin Bieber. It was the tongue seen 'round the world and the gif still makes us giggle, even after months and months and a dozen sad Music Monday ballads from Bieber about Gomez.