Hayes Grier Is A Sensitive 'DWTS' Star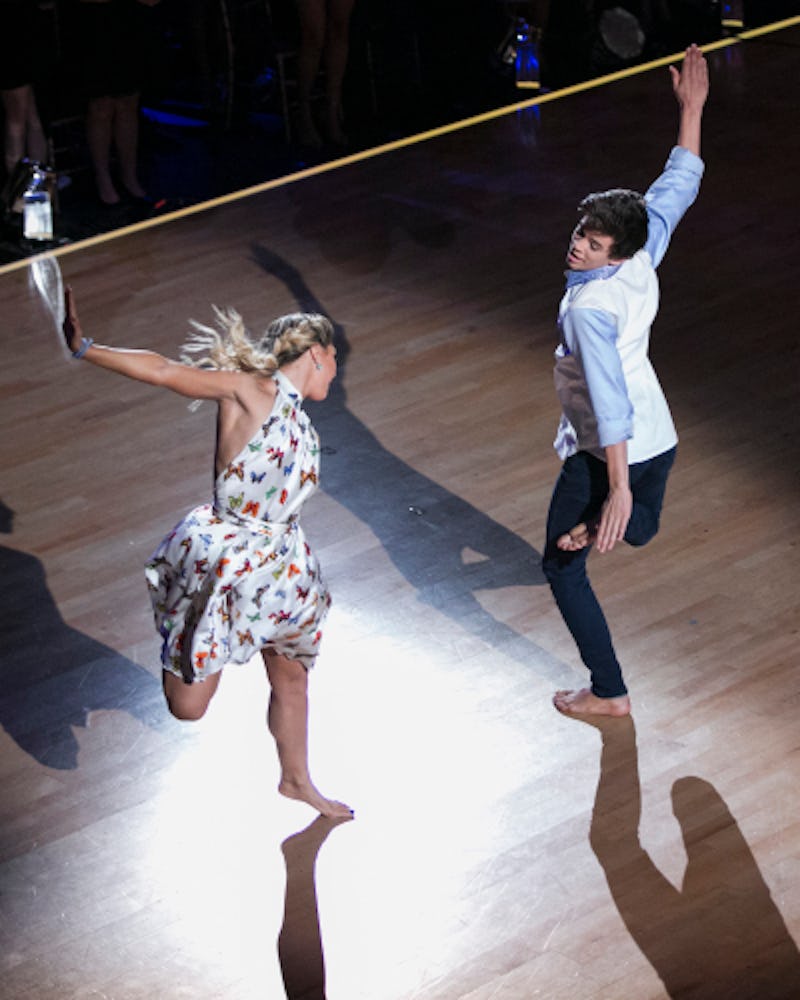 Every time I want to discount Hayes Grier on Dancing With The Stars , I just can't! Frankly, I think I'm just jealous that he is famous and can dance his adorable little ass off (and I am/can do neither of those things), but as cynical as I wanted to be about Hayes, I just couldn't be. This week is the week during which the stars swap partners (and the partners are chosen by the public at large, so that's pretty scary), and Hayes was paired up with lovely Allison Holker, normally Andy Grammer's dance pro. A mom and a mom-to-be, Allison really took over as a mom to Hayes and decided she wanted to see a softer, more grown-up side to this Vine star. And you know what? They both totally nailed it.
Dancing to "Like I'm Gonna Lose You" by Meghan Trainor and John Legend, this new pair put forth a beautiful, wonderful, and soulful Viennese waltz. I swear I barely recognized Hayes the whole time! It was a far departure from his usual fun-loving stuff, and it was such a welcome development. It's nice to be able to see all sides of a person or performer, and this waltz, although Maks and Bruno didn't love it, really opened up Hayes to a world of dancing possibilities.
Because, sure, the kid can jive and quick-step and fox trot, but if Hayes can't get down the more slow, calculated dancers, he'll never win the Mirror Ball trophy. Being paired with Allison and a more thoughtful approach to his dancing seriously acted in Hayes' favor. Now, the public and judges alike can see him as a more well rounded dancer, and thus, worthy of that big, fat, shiny trophy. Hayes' Twitter army may be powerful, but now he'll get the grown-up vote, too! Watch out, Emma — There's a team Hayllison coming to get you.
Images: Adam Taylor/ABC