Kent Has A Way With Words On 'Wicked City'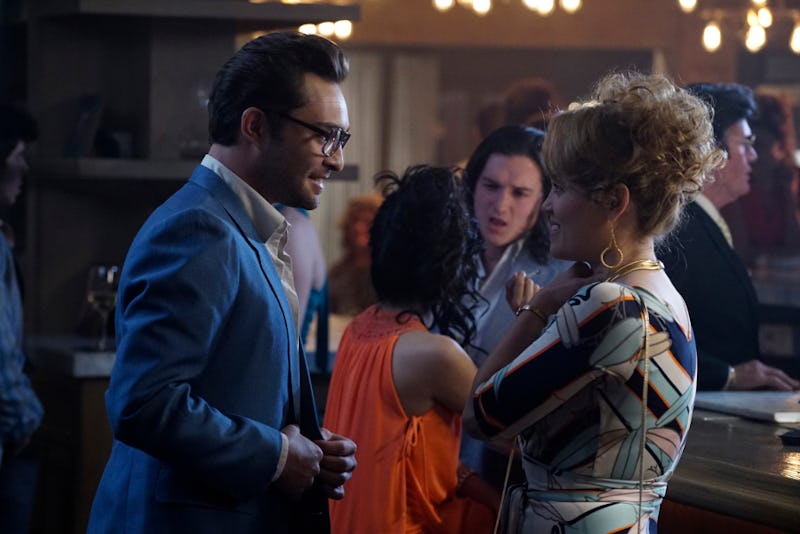 It was apparent from the first moments of ABC's new crime drama Wicked City on Tuesday night — Kent Grainger has a certain charm that women love. He owes a lot of that to portrayer Ed Westwick, but it's not all about his looks, because Kent seemed to convince murder victim-turned-lover Betty to join his killing spree with a simple whisper. But what did Ken whisper to Betty at the end of Wicked City to convince her to join him in offing a poor unsuspecting girl on the Sunset Strip? Whatever it was, those words got her to leave the bar with Kent and poor Mallory K., who he dedicated a song to on the radio, because this is 1982 and considered sweet — but in this show, it's also deadly.
It's merely the first episode of Wicked City, but already viewers got a sense that Kent (who also goes by many other names, like Brent) and Betty, a nurse and mother, have a really crazy connection. He was originally going to kill her as she gave him oral sex in his car as his dedication to her played on the radio — for the record, it was "Crimson & Clover" by Tommy James and The Shondells. But then she happened to mention her child and Kent got weirdly interested in keeping her alive. Kent and Betty wind up having some very bizarre pretend-you're-dead kind of sex, during which they sensed a strong connection to each other.
So does that mean she knew what his plans were with a single glance? Or did Kent whisper, "let's kill this chick"? Maybe he kept it flirty by asking, "Have you ever murdered someone? Wanna give it a try?" Well, flirty is a killer way. No matter what he said, I'm sure his eloquent words probably appealed to her more sadistic side — and she seemed totally game. And judging by the promos for this season, it looks like Kent has a willing accomplice along for the ride.
Images: Eric McCandless, Bob D'Amico/ABC