'Gotham' Has A Dangerous New Duo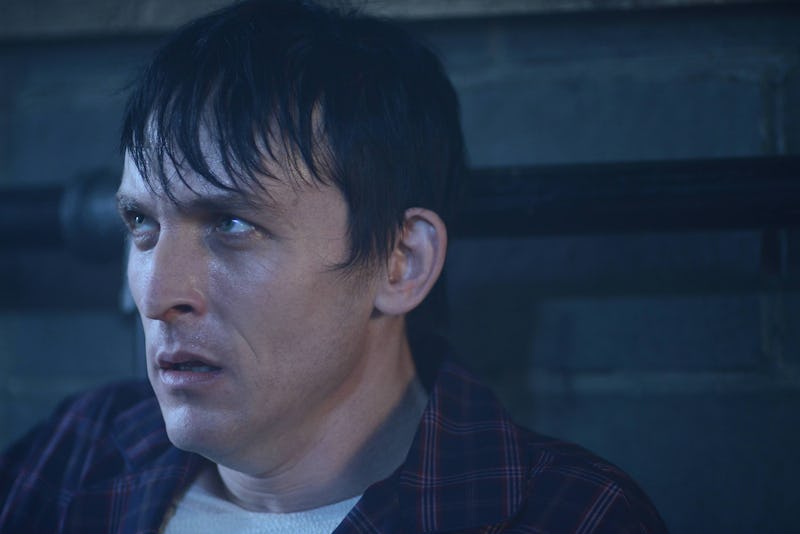 The final images of the last few episodes of Gotham have all been huge game changers: the death of Kristen Kringle, the reveal of secret lab Indian Hill, Ed Nygma's transformation into the Riddler... and now, the new friendship between Penguin and Riddler. After Penguin escaped from Theo Galavan, sustaining some major injuries in the process, he fled the scene of the attack and drove off, alone, bleeding, and still mourning his late mother. Now it's been revealed that a still-hurt Penguin is staying in what looks like a mobster safe house in the woods.
The very same woods where Edward Nygma, now fully in Riddler mode, is having a nice picnic with what remains of Kristen Kringle's body. Ed has been very slow to dispose of this body, and an innocent hunter also wound up getting killed because he witnessed Ed's lunch. His transformation into Riddler really is complete — the old Ed would have tried to put together a quick lie to avoid a confrontation with the guy, not tricked him into bending over so he could knock him out with a shovel. Nygma is mild-mannered no more.
That's what makes this new alliance between Riddler and Penguin so fascinating. When they last met, Oswald seemed like the bloodthirsty one. But now the tables have turned, and maybe it will be Nygma who urges a vulnerable, emotional Penguin to finish getting even with Galavan.
Either way, these two definitely complement one another. Nygma can help Penguin fix his injuries, with his expertise in the medical examination field and his total lack of squeamishness, and Cobblepot is in need of a new lieutenant now that Butch has been deprogrammed by Tabitha Galavan. Their first move now that they're working together should be to finally form exactly what they've both needed since Season 1: a friendship. Their next move? Become the only team capable of taking Gotham City back from Galavan.
Image: Nicole Rivelli/FOX; Giphy