'RHOA' Conflict Between Kandi & Phaedra's Not Over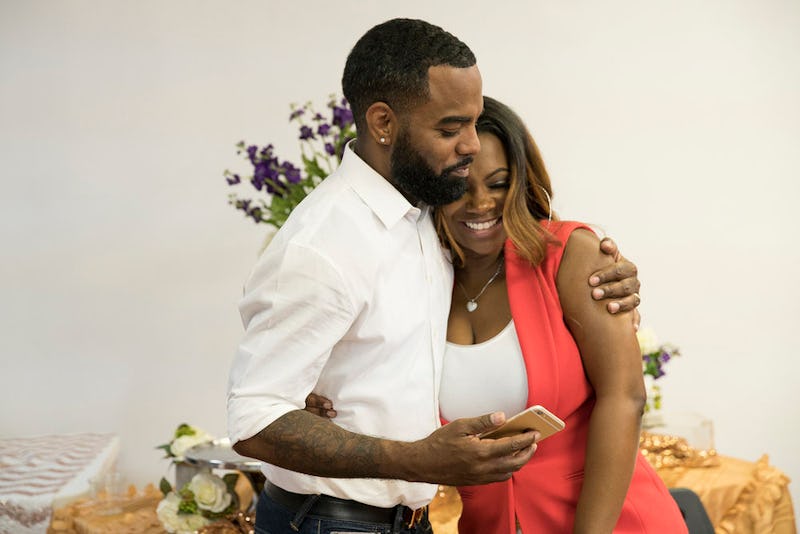 It feels like a bit redundant after last season, but The Real Housewives of Atlanta can't quite decide if Kandi and Phaedra are still friends, And even though these two former BFFs have had a whole year to reconcile, money and Apollo, Phaedra's husband, have kept them apart. Todd has been pressuring Kandi to collect on some debts that he claims Phaedra has not paid from years ago. While Kandi seems uncomfortable about the idea — and didn't bring it up when she confronted Phaedra in this episode — it's definitely not helping things. Also not helping? Todd and Apollo's friendship, which meant that Kandi's husband is housing some of his pal's motorcycles while he's in prison.
Earlier in the episode, Kandi opened up to returning 'wife Sheree about the conflict over the past season. Sheree was just as shocked as Kandi that NeNe had become Phaedra's go to confidante, especially because she used to have such serious beef with the now-departed Housewife. Kandi was unsettled that even though it's been a year since they first had some conflict, that they've still never sat down to address the problems between them.
But at the same time, Phaedra was reconciling with Cynthia after their tiff during the past season, and basically doing exactly what Kandi had pointed out as what hurt her feelings during last season — talking about how she wishes Kandi would support her more behind her back but not having anything constructive to say when confronted.
But it seems like Phaedra and Kandi at least have remained somewhat friendly. Kandi invited Phaedra to her baby shower, where there were not many other RHOA cast members (or NeNe) in attendance, so that indicates that hopefully this friendship, which has always been such a big part of the show, has survived. Hopefully these two are able to work it out.
Image: Mark Hill/Bravo