Adele Nails "When We Were Young" On 'SNL'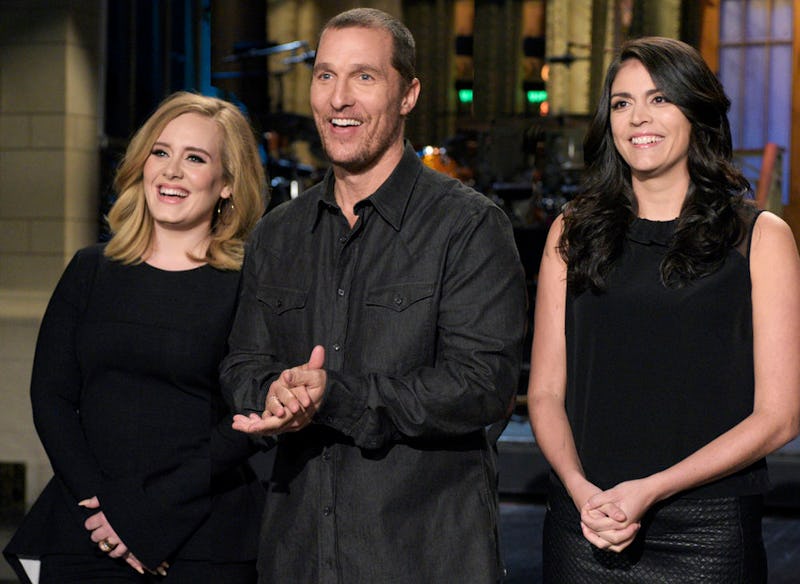 We know Adele's "Hello" is the song that took the world by storm. (Just look at your iTunes playlist. Yeah, that's what I thought.) It's no surprise, then, that Adele performed "Hello" as her first Saturday Night Live number, considering its out-of-the-gate runaway popularity. I should say mega-popularity. According to Fortune, the song is record-breaking, with its video hitting 100 million Vevo views in just five days. (The previous record-holder is another SNL Season 41 performer, Miley Cyrus, whose "Wrecking Ball" got to 100 million views in six days.) But — lucky for Adele fans — she gets to do more than just "Hello" during the show. It's a big opportunity for her to break a second single from her new album, 25. When she took the stage for a second time, Adele performed "When We Were Young" on SNL.
It's fitting, because it's another ballad, so fans of "Hello" will get it stuck in their heads, so they can have another song to sing mournfully in the shower come Sunday morning. "When We Were Young" is another song that showcases Adele's big, powerful voice. Other singers accompanied her on the refrain, but she didn't need them; her voice was big enough to fill Studio 8H by itself.
Really, her voice was the only thing that was upfront and center. The lighting for the performance was dim, and Adele's dark, fringe dress blended into the background — her fashion wasn't a distraction. And, though she was backed by a full band, there weren't any dancers or other big, showy production numbers that distracted from the song.
Of course, this is all expected from Adele. We all knew she'd come in, knock it out of the park, and give us all the feels, But, in case she wasn't up to doing a second performance on SNL, it's good to know that Aidy Bryant could've stepped in.
Watch the full video below:
Image: Dana Edelson/NBC