Matthew McConaughey On His Biggest Catch Phrase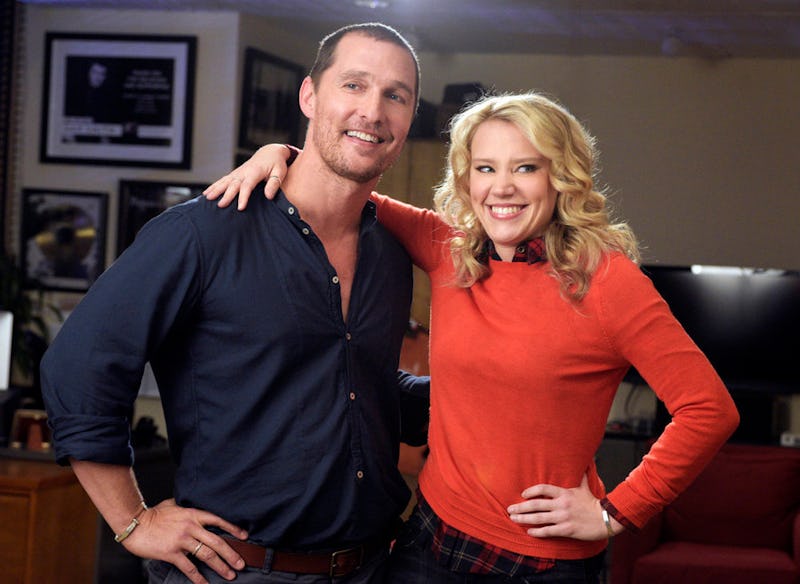 When Matthew McConaughey took to the Saturday Night Live stage on November 21, he opened with one of his most popular catch phrases. "I'm pretty sure tonight is going to go okay, okay, okay," he joked. "That's not what you thought I was going to say, was it?" Yes, it seems like everywhere McConaughey goes, people expect him to say, "all right, all right, all right." But the rest of McConaughey's SNL monlogue was different from the normal show-opener in that all McConaughey did was tell a story about how that catch phrase came to be. "This story is titled, 'The Right Bar at the Right Time," he said.
The True Detective actor describes randomly meeting a producer at a bar in Austin, Texas in 1992, back when he was not yet thinking about being an actor. That producer put him in Dazed and Confused, where he discovered what he called his character's "launchpad" line. He said a "launchpad" line is a line where, "if the character really believes it, then I feel like I can write a whole book on this character." His Dazed and Confused launchpad line was the now-iconic "I keep getting older, they keep staying the same age."
That "launchpad" line gave him the insight that his Dazed and Confused character was about four things: "cars, weed, rock and roll, and chicks." For his scene in the movie, he had the car, the weed, and the rock and roll, (and was looking for the chicks), so when another character asked him what his night was, he had one response: "all right, all right, all right."
He also said the line was an improv. We'll see if he gets to improv anything else that classic on the rest of his SNL episode.
Watch the full video below:
Image: Dana Edelson/NBC