Carlos PenaVega Could Win 'DWTS' With His Foxtrot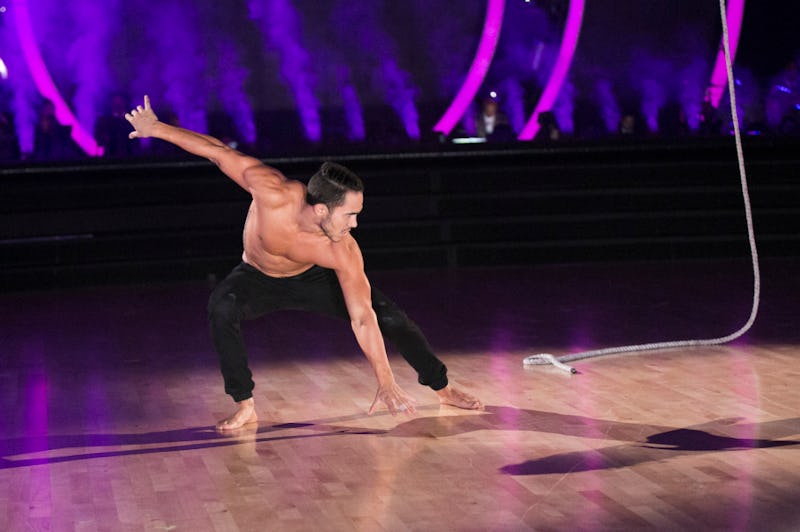 Carlos PenaVega has quickly become one of my favorite dancers on Season 21 of Dancing With The Stars. I've loved his dance pro partner Witney Carson for a while now (especially because she did the "Carlton" with Alfonso Ribeiro), and she's really molded Carlos from a pretty good dancer into a great one. On Part One of the finale, the contestants are given a judge to determine what dance they'll do and also to give them pointers. Carlos teamed up with Bruno Tonioli for a very sexy foxtrot. And you know what? The judges loved it!
Bruno's advice focused the most on Carlos' framing, which is something that he's had problems with since the beginning of the show. Dude just doesn't want to stand up straight, I guess. Anyway, whatever else Bruno said totally paid off. Carlos and Witney were given one of the hardest dances to perform, and Witney choreographed an amazing number to The Weeknd's "The Hills." It was sexy and fun and difficult and Carlos really took all of the advice to heart, because the judges all agreed he looked better on the dance floor than he ever had. Witney and Carlos earned a perfect score for this foxtrot, and they totally deserved it. They were so excited!
So what does this mean for the competition? Well, it means that Carlos is really trying to separate himself from the pack. Bindi is a great dancer. Nick is a great dancer. Alek is a great dancer. Now's the time to change things up. Honestly, I think his wife being eliminated from the competition lit a fire under his tuchus. Carlos is going to work his hardest to win a trophy for the PenaVega household. If he dances like that for the next two nights, I'd say that Carlos has a great shot of bringing Witney to yet another Mirror Ball Trophy.
Images: Adam Taylor/ABC