Alek & Lindsay Scaled Obstacles On 'DWTS'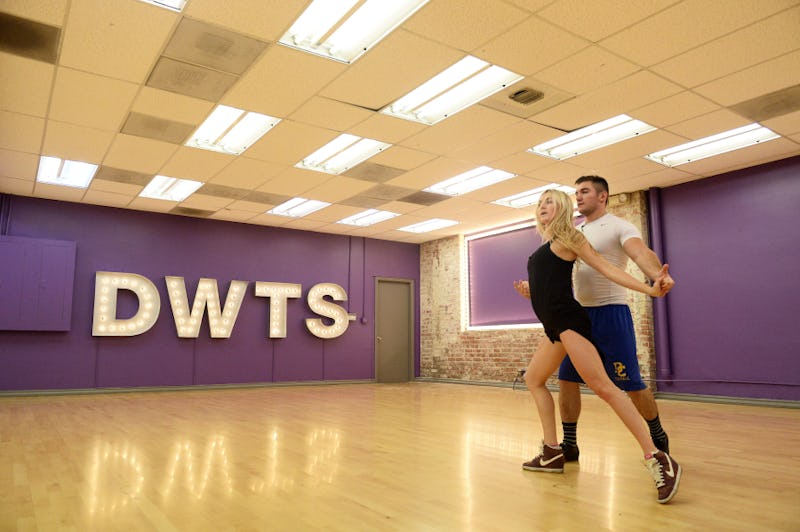 During the finals of Dancing With The Stars, it's really time to bring it. Contestants have to do whatever it takes to stand out not only to the judges but to the at-home voters, too. Taking this all to heart, Alek Skarlatos and Lindsay Arnold decided to do an obstacle course for their freestyle number on Dancing With The Stars. Alek decided that he had overcome a lot of obstacles in his life, so why not make his near-final dance indicative of that? Let's just say it involved an army of pro dancers, an eight-foot wall, and some cargo netting, and it was creative and wonderful.
In the pre-dance interview segment, it was revealed that Lindsay had to rethink some of her amazing choreography because she and Alek didn't realize just how large and steep that obstacle course wall would be. Woops! But with struggle comes growth, and considering that this was Lindsay's very first freestyle dance on Dancing With The Stars, she did an amazing job. You would never know she was a freestyle novice. The judges were visibly moved by the army-inspired performance, and Bruno, Julianne, and Carrie Ann gave Lindsay and Carlos a perfect 30 for their efforts.
The freestyle dances are the most fun to watch because you can pretty much do whatever you want with them as a choreographer as long as you obey some simple rules. Imagination and technical prowess can combine here and mean really big things for a contestant. As far as this dance and corresponding scores go, they are just as much a testament to Lindsay's expert dance tutelage and choreography as Alek's newfound moves. Alek may have been the "everyman" addition to this season of Dancing With The Stars, but he sure isn't going down until he's on top with that Mirror Ball Trophy.
Images: Matt Petit/ABC