Orlando Bloom's Romeo Will Be Compared to 9 Other Actors Who Totally Nailed the Part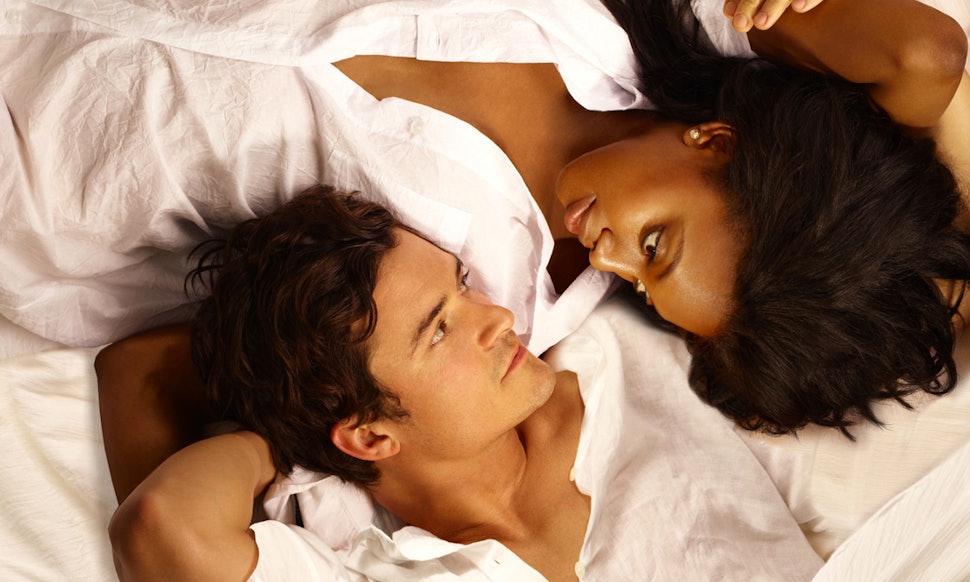 Just in time for Valentine's Day, Orlando Bloom's Romeo and Juliet Broadway play is coming to theaters. Before the play closed in December, a copy was recorded and will be released across the country for your viewing pleasure. Now you can take your own Romeo (aww) or just go by yourself to drool over Orlando Bloom. Best V-Day present ever.
On Broadway, Bloom had little Romeo competition as the play hadn't been seen on the Broadway stage in 36 years. But joining the ranks of film means Bloom will have to battle other iconic Romeos throughout cinematic history. Where does Bloom stand in the battle of the Romeos? Click through to find out. Images: Broadway, Warner Bros, 20th Century Fox, Metro-Goldwyn-Mayer, Paramount Pictures, United Artists, Summit Entertainment Lionsgate, Relativity Media
Leslie Howard
Howard was 43 in this 1936 Romeo and Juliet adaptation which kind of ruins the whole young love aspect of the play. Bloom can beat him handily simply because he's five years younger (and has that baby face going for him).
Laurence Harvey
1954 Romeo is in black and white and Harvey has a weird perm-thing going on. Like if Bradley Cooper's American Hustle character was playing Romeo. Due to color film and better hair I think Bloom can out-duel this Romeo.
Richard Beymer
West Side Story was totally a spin-off of the play, let's be real here. I love this movie because any time I can get dancing and singing gangsters I'm all over that. Bloom can only beat him out if he sings in his rendition.
Leonard Whiting
This 1968 version stars Zac Efron in his first period piece. Haha, just kidding. But doesn't he look just like Efron? Of course when I had to watch this version in high school, Zac Efron was just a shaggy-haired basketball player for the Disney Channel so no one cared about the similarity in looks. Orlando might be able to beat out this acting in his own rendition, but I'm giving Efron Sr. the cute points, sorry Bloom.
Leonardo Dicaprio
This 1996 adaptation of Romeo and Juliet will be a hard act for Bloom to follow. I mean just look at Leo's precious baby face. Plus, taking the route of L.A. gang wars instead of stuffy ancient England was nice ploy to get high school students to care about Shakespeare. This round goes to Leo.
Chad Michael Murray
In an early episode of Gilmore Girls, pretty-boy Murray was assigned the role of Romeo in a school play. He never made it onstage though because in real life he left to do One Tree Hill, and in Gilmore Girls he got sent to military school for breaking into his friend's dad's safe. I think Bloom beats Murray out on this one because Bloom actually made it past the rehearsal stage.
Liza Weil
When Murray's character bailed, Weil's character Paris stepped in to play Romeo. This was a big deal because she kissed Alexis Bledel's Rory and this was before Glee made TV same-sex kisses the norm.
Nicholas Hoult
I didn't see Warm Bodies which starred Hoult as "R" a zombie who loves real-girl Julie. I'm leery of supernatural teenage romance movies so I'm gonna give this round to Bloom and his more traditional rendition.
Douglas Booth
Debuting in 2013 and with a star studded cast, this movie updated the 1968 version by giving it more popular actors, and better lighting. I didn't see this one either but since it only scored a 5.6 on IMDB I'm gonna say Bloom can beat out this teenage Romeo based on hair alone.