The French Really Know How to Protest
Well, merde. A cargo truck unloaded an enormous pile of manure outside France's National Assembly Thursday in an apparent dirty protest against the country's political elite. A slogan emblazoned on the truck read, "Out with Hollande and the whole political class!" While the exact motive for the dump isn't clear, the special delivery comes in the wake of the news of French president Francois Hollande's affair with actress Julie Gayet, who is 18 years his junior.
The driver of the lorry was reportedly arrested and taken to a police station; charges against him are expected. As the truck was unloading outside the Assembly, the AFP news agency reportedly received a message saying, "At this very moment … a French just expressed his anger at the national assembly Holland! enough! This is the message he wanted to convey and whose president will long remember."
On Monday, French taxi drivers protested against a government decision to increase the number of transport options available to tourists, ending the cab drivers' monopoly on airport travel. Much of the disdain was directed towards Uber, the new controversial car-ordering service that is making its mark over the pond, as well as a three percent tax increase on transportation.
See the whole mess in action.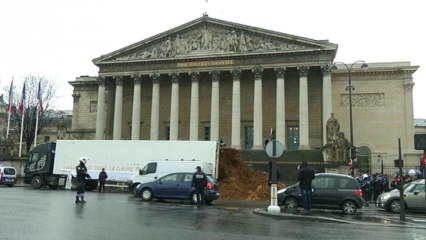 Video: Euronews
Image: AFP/Fred Dufor