Frank Underwood & 'HoC' Got Snubbed By The Globes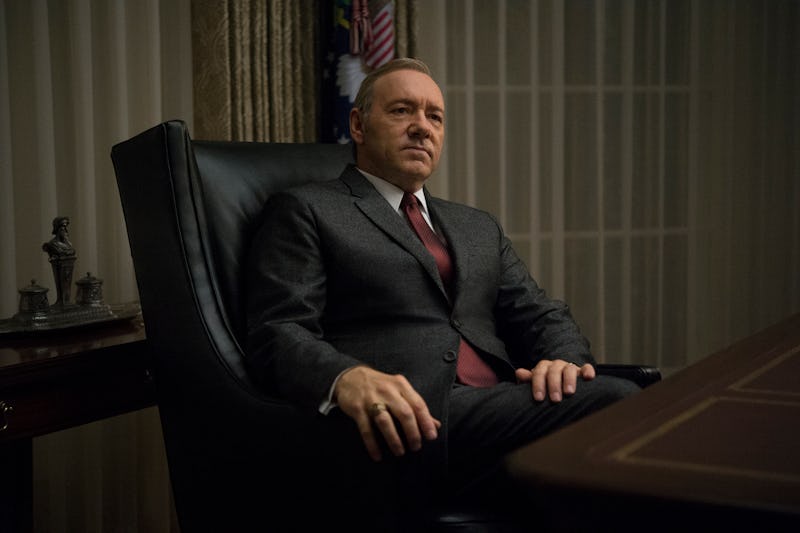 Frank Underwood of House of Cards has been having a rough year. The fictional President of the United States did not have it easy in Season 3, and to make matters worse, the Golden Globes snubbed House of Cards for Best Drama Series. While I'm ready to admit that Season 3 of House of Cards didn't have the same shocking moments as Season 2 (sorry, Kate Mara), that doesn't mean the Netflix show still wasn't stellar. It tackled the complex subject of U.S.-Russian relations, as well as the perhaps even more complex subject of the relationship between Frank and Claire Underwood.
House of Cards was nominated for Best Television Series - Drama in 2014 and 2015, but lost both years — to Breaking Bad in 2014 (not surprisingly) and The Affair in 2015 (pretty surprisingly). Yet, to not even get a nomination this year hurts. And that's not to say the nominees for 2016 aren't deserving since they are Empire, Game of Thrones, Mr. Robot, Narcos, and Outlander, but House of Cards is in its own league with such a snarky and intelligent mix of the personal and the political.
But the series isn't the only surprising snub — Kevin Spacey also didn't get acknowledged. Spacey won Best Performance by an Actor In A Television Series - Drama at last year's Golden Globes and he didn't even get a nom this year. Just like in Season 3 of the series, the real winner is Claire Underwood, since my girl Robin Wright (who won the award at the Globes in 2014) was nominated for Best Performance by an Actress In A Television Series - Drama for the third year in a row. Claire will forever and always be the powerful and badass woman who has my heart, with or without Globes nominations, but the recognition sure doesn't hurt.
Image: David Giesbrecht/Netflix