This 'War & Peace' Reading Marathon Sounds Epic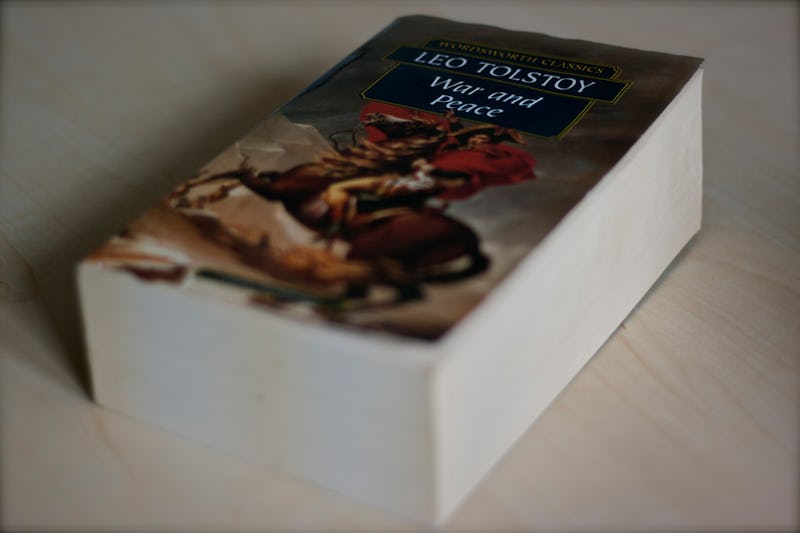 If War and Peace is one of those books you never quite made it to the end of, now might be your chance to catch up — but you better have a day or two to spare, because I'm talking about an epic War and Peace reading marathon that's being broadcast right now. Of course, it would also help if you were fluent in Russian, because the novel is being read aloud by over 1,000 Russian people (and one French) all across the country. So that's the minor catch.
This reading marathon has been coordinated by author Leo Tolstoy's great-great-granddaughter Fekla Tolstaya, and as of Thursday morning, the readers had made it through just of two of the novel's four volumes. The event is being shown on national TV, as well as being broadcast online, so if you've scrubbed up on your Russian already, you can follow along. French actress Fanny Ardant is reading the French-language sections, but those of us who didn't pay attention to language classes at school (ahem, me) may be a little stuck there too.
The participants reading War and Peace aloud come from varied backgrounds all over Russia, including schoolchildren, scientists, sportsmen, and even a spaceman. I don't know about you, but I just love the idea of a novel uniting this vast country. All the readings were pre-recorded in various locations across Russia (and even one in space!), and the result was a massive 60 hours of footage.
The event is due to continue until the end of Friday, by which time more than 1,300 Russian people will have read sections from this classic work.
Image: smlp.co.uk/flickr