Books to Inspire You on Martin Luther King, Jr. Day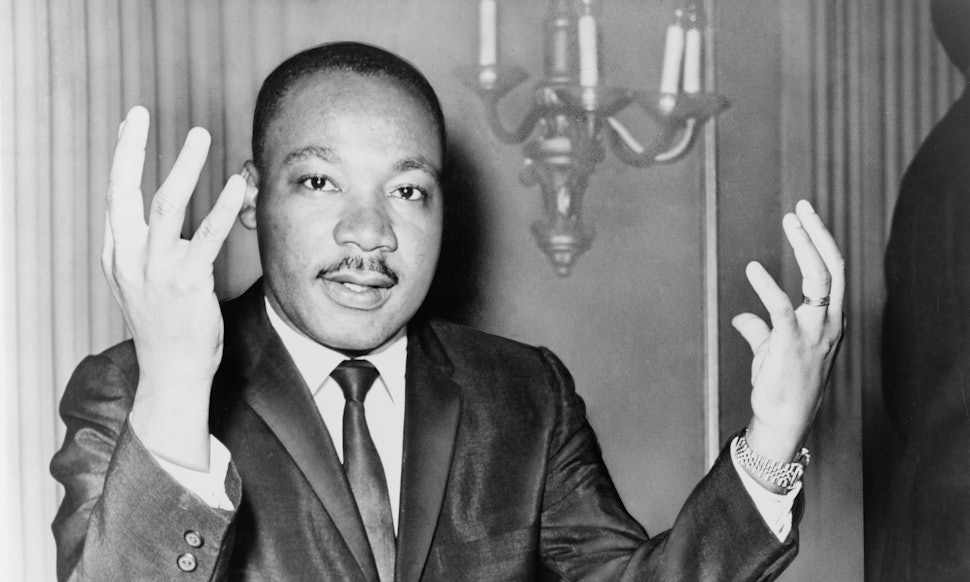 Martin Luther King, Jr. Day commemorates the Civil Rights leader's birthday; since 1994, the holiday has been marked as a National Day of Service, meant to encourage Americans to live out King's message of peace. If you're feeling the spirit of community, let it permeate your reading list; these books are all about other influential leaders, men and women who were — and are — also committed to tolerance and equality.
image: Library of Congress/wikimedia
'Why We Can't Wait' by Martin Luther King, Jr.
MLK's well-regarded book was written after the success of his powerful essay "Letter from Birmingham Jail." Why We Can't Wait details what he calls "the Negro Revolution," and discusses why the Civil Rights Movement necessarily came to a head in 1963.
'Great Soul: Mahatma Gandhi and His Struggle with India' by Joseph Lelyveld
Lelyveld's biography of the Indian leader focuses on aspects of Ghandi's life that many see as secondary to his work in India — his years in South Africa — and his philosophies that have since been mostly abandoned, like simple living and celibacy. Lelyveld also discusses the political and social tensions in modern India, writing that the real tragedy in Ghandi's story is "that he was ultimately forced… to see the limits of his ambition to remake his world."
'Night' by Elie Wiesel
Elie Wiesel survived the Holocaust at the Auschwitz and Buchenwald concentration camps, and Night is the account of his years spent imprisoned with his father. Wiesel is candid and heartbreaking in his discussion of hatred (the Nazis' and his own for them) and helplessness; the book isn't wrapped up nicely with him finding faith in the world again, but his life's work — he won the Nobel Peace Prize in 1986 — proves that perhaps he has.
'Long Walk to Freedom' by Nelson Mandela
Nelson Mandela's autobiography follows the future South African president from childhood to his prison release in 1990. His writing is eloquent and his peaceful philosophies — of his jail wardens, he writes that even they reinforced his belief in humanity — will give you hope for the future.
'Freedom in Exile' by the Dalai Lama
Tenzin Gyatso, the world's Buddhist leader, was discovered as the 13th incarnate of the Dalai Lama when he was three. His memoir traces his life from early childhood to his winning the Nobel Peace Prize in 1989, and includes details of Tibetan suffering under Chinese rule. A great, informative read if you're unfamiliar with the Chinese occupation of Tibet, made even better by the Dalai Lama's optimism and tolerance.
'I Am Malala' by Malala Yousafzai
Shot by the Taliban for her outspoken stance on girls' rights to education, 16-year-old Yousafzai's name has become international shorthand for political activism and equality. Her story will make you reevaluate what you've taken for granted and will inspire you to help others achieve their dreams.
'Jane Addams: Spirit in Action' by Louise W. Knight
Credited for shaping social work as a profession, Jane Addams was awarded the Nobel Peace Prize in 1931. Knight's biography highlights Addams's work as the founder of the country's first settlement house, as well as a champion for the rights of women, children and the poor and an advocate for civil rights.