Very Sad News For 'Teen Mom 2' Star Leah Calvert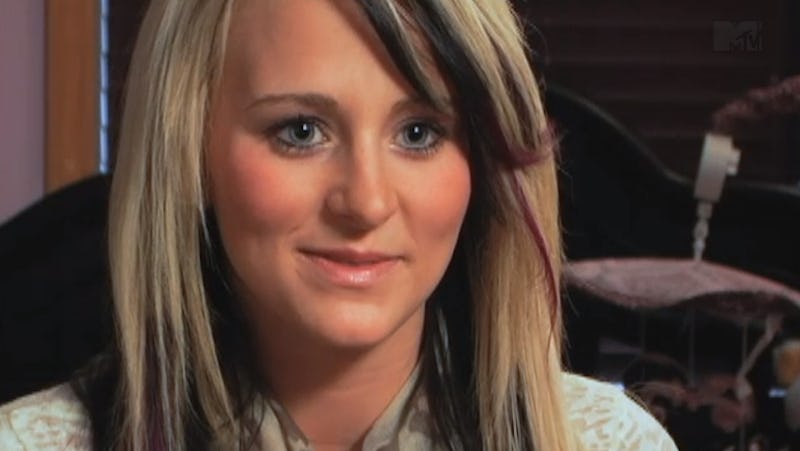 Last night a new season of Teen Mom 2 premiered and while this show usually brings to mind the crazy lies of budding porn star Farrah Abraham or the seemingly constant arrests of Jenelle Evans, there are mothers on Teen Mom that have their lives together for the most part. One of these is Leah Calvert (formally Leah Messer) who raises her three daughters with husband Jeremy. Sadly, on Teen Mom 2's season premiere Calvert revealed the heartbreaking news that her daughter Aliannah has been diagnosed with muscular dystrophy.
Anyone who has seen the show knows that since the birth of Aliannah and her twin sister Aleeah, Calvert has struggled to find an answer to Aliannah's physical developmental issues which were apparent, in particular, in comparison to her twin. Previous seasons showed Calvert and the twins' father, Calvert's ex-husband Cory Simms, taking Aliannah to numerous doctors appointments in a search for answers.
Now, Calvert has found that Aliannah has a rare form of muscular dystrophy that over time will lead Aliannah needing a wheelchair. Calvert told Us Weekly, "Eventually, Ali could be in the chair all the time. But I've never seen her so happy. She chases Aleeah and doesn't fall down anymore."
Calvert also tells her story in the new issue of In Touch. She told the magazine that her family plans to move into a wheelchair accessible home and expressed her motivation in providing the best life she can for her daughter. "We were scared because we didn't know what her future was going to look like, but we always pushed for answers. We never gave up, and we never will. We'll do everything we can to make sure Ali has the life that she needs."
Image: MTV