12 Boxed Wine Hacks That'll Blow Your Mind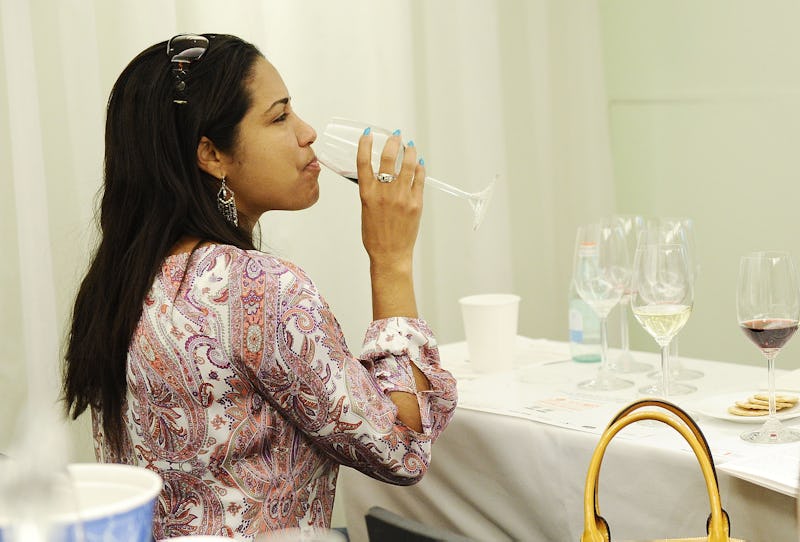 Daniel Zuchnik/Getty Images Entertainment/Getty Images
Boxed wine is my jam, people, and I'm not going to hide it. Some people might look down their noses at boxed wine, and they'd be somewhat right to — boxed wine tends to taste pretty crappy, but there are ways to make boxed wine taste good, I promise. Plus, you really can't beat getting all that wine for the price of one measly bottle. If you're a boxed wine pro like me, you know there are ways to get around the not so pleasant taste of boxed wine. For the rest of you, prepare for some enlightenment, because I'm sharing my boxed wine hacks that'll make you forget you're drinking boxed wine at all.
I will admit I do tend to get into trouble with boxed wine. It could be because you can't see how much is left in the box (or how much you've already consumed). It could also be the handy nozzle that makes pouring yourself a glass every time you walk into the kitchen way too easy. The key is to know the hacks that make it taste amazing. Wine Wednesdays are about to get so much better for you.
Now go out and grab the first box of wine you see at the local liquor store, because you have everything you need to make it taste great. You can thank me later.
1. Add juice
You know what gives that dry, boring boxed wine more flavor? Hitting it with a dash of juice. You can use orange juice, cranberry juice, or even lemon juice to give that hum-drum glass just the right fruity twist it needs.
2. Add sparkling water
How about making yourself your own personal wine spritzer? Wine spritzers are back in style if you haven't heard, and a touch of sparkling water can help smooth out the flavors in that boxed wine.
3. Throw in some fruit
Did someone say sangria? Add any fruit from berries to apples to pineapple, and you've got homemade sangria.
4. Add a splash of lemonade
It doesn't matter if it's summer or the dead of winter, a little lemonade will brighten up your glass of wine. You'll feel like kicking back on those rocking porch chairs and watching the world pass by in no time.
5. Freeze it into ice cubes
If you aren't into drinking that boxed wine right now, go ahead and freeze it into ice cubes. You can use them later to add to summery sangria without diluting it, or you can use it for cooking in recipes that need wine.
6. Let it breathe
Just like the good stuff, letting those boxed wines breathe in the glass for a little bit before taking a swig can make a big difference in the taste.
7. Make wine slushies
Freeze that boxed wine, and then blend it up slushie style. Being an adult officially rocks, right?
8. Add ginger ale or lemon-lime soda
Want a sweeter take on a wine spritzer? Head for the ginger ale or lemon-lime soda to add a much needed punch of flavor.
9. Mull it
Baby it's still cold outside, so now is the perfect time to mull your wine. Use ingredients like cinnamon sticks, allspice, berries, and cloves, plus a little orange peel for a treat that'll warm you through and through.
10. Add it to hot chocolate
Another wintertime specialty is to add some of that boxed red wine to hot chocolate. Voila, a classy boozy hot chocolate that'll warm you up without completely flooring you like spiking your cocoa with peppermint schnapps would.
11. Cook with it
Sometimes the stuff just doesn't taste so great in a glass by itself. Add it to some hearty stew or a risotto to make it the bomb dot com.
12. Chill it
Particularly for boxed white wines, chilling the box as much as you can without freezing it will help dim the less appealing flavors in the wine.
Wine's always better in bulk right? The answer is yes, always.
For more inspiration, check out Bustle on YouTube.
Images: Getty Images