Paula Abdul Means Business On 'Cooper Barrett'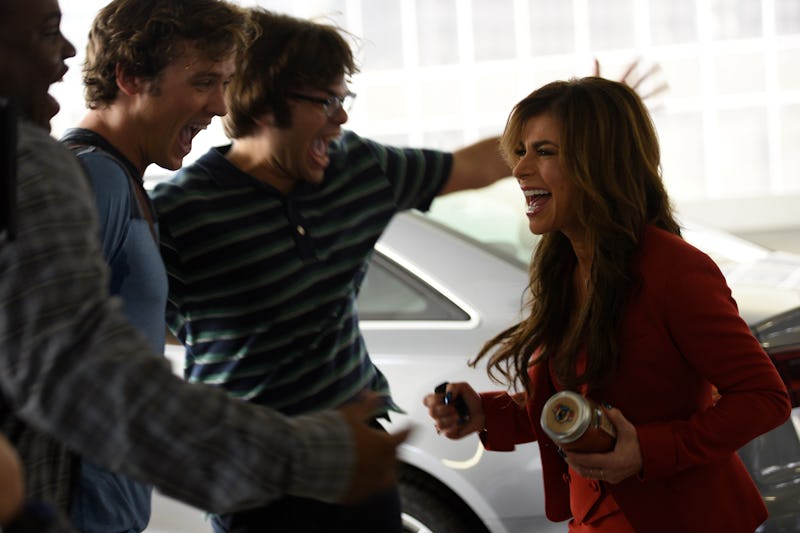 What do you get when you take a group of friends who are running low on cash and introduce them to Paula Abdul? A pretty lit dance number and a hold up, according to this Cooper Barrett's Guide to Surviving Life exclusive video. On the Jan. 10 episode of the new FOX show, Cooper, Neal, and Barry are in the same position every twenty-something finds themselves in at some point — they're broke. Sales for their hangover cure dwindling, so the guys decide to replenish their starving bank accounts by participating in a drug trial. According to Charlie Saxton (Neal) in the behind-the-scenes video below, "They are desperate for cash and will do anything for it." Sounds like a quick fix to a not-so temporary problem, but hey, that's what your twenties are all about, right?
The guys face a bit of a plot twist when they run into Paula Abdul, playing herself, in a parking garage and successfully pitch her the hangover cure. Abdul says in an interview that she gets to play a tough character, "someone I kinda know..." she says, "Me." (That's a mic drop, my friends.)
The guys are pleasantly surprised when their pitch works and Abdul agrees to take part in a promo video for the hangover cure. But, things take a turn for the worse when the guys learn that Abdul isn't "necessarily who they think she is," according to Jack Cutmore-Scott. Check out the exclusive clip of Cooper Barrett's Guide to Surviving Life episode "How to Survive Insufficient Funds," featuring interviews with the cast and guest star Paula Abdul below. Make sure to tune-in to see Abdul in action on Sunday, Jan. 10 at 8:30 p.m. on FOX.
Images: FOX