'Orange is the New Black' is Netflix's New Hope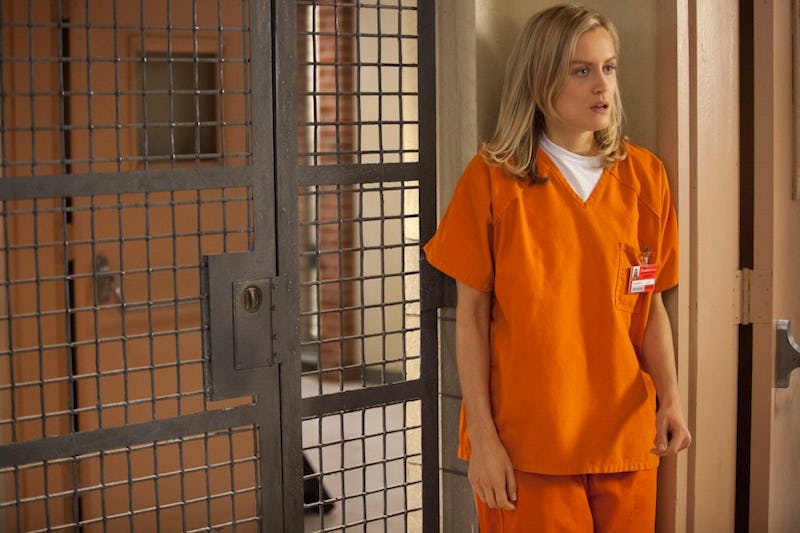 Netflix has had its share of ups and downs in recent months (hello plummeting stock!) and, based on its trailer, the service's newest original series, Orange is the New Black, could be a House of Cards, which received both positive reviews and an audience (as far as we know)... or a Hemlock Grove, which drew neither. In a post-Arrested Development Netflix universe — where viewers are skeptical of the service after most felt it delivered a disappointing reboot of the fan favorite series — where will Orange is the New Black fit in? Will it be a House of Cards accomplishment, a Hemlock Grove failure, or an Arrested Development let-down?
Things certainly start to look up after the bizarre shower-themed opening when we find out what the show is actually about: Taylor Schilling plays Piper Chapman, a happy woman (despite dating Jason Biggs) who is sent to prison for running drug money with her ex-girlfriend 10 years earlier. Familiar is the balance between drama and humor that made House of Cards a hit, but here's hoping all of the jokes won't be based around race and sexual orientation.
Will Orange is the New Black be Netflix's next big hit, or will it force the service to accept its true purpose: Saturating our binge-watching hunger? We'll find out when it premieres July 11.
Image: Netflix