Here's A Foolproof Way To Fill In Your Brows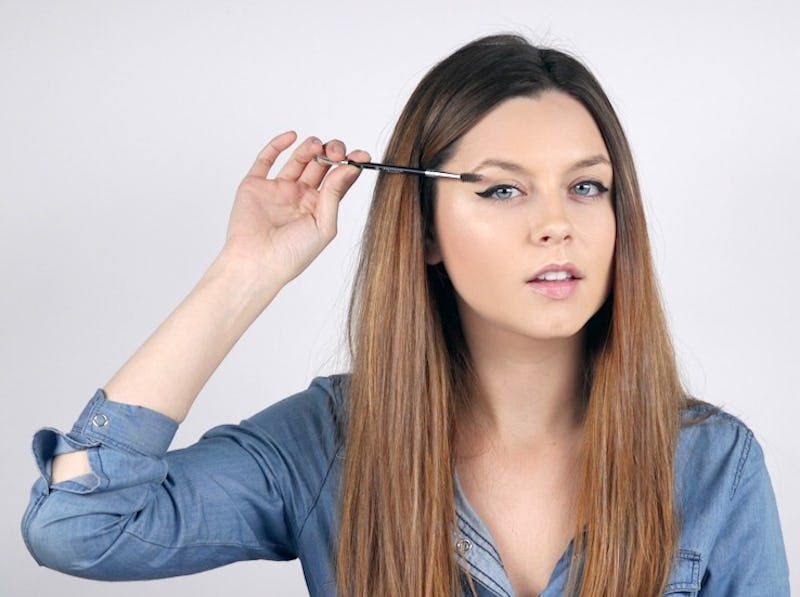 My brows have come a long way. In fact, it has taken me years to bounce back from an era when pencil-thin eyebrows and excessive tweezing was a thing. And while I can proudly say I've moved on from my overzealous plucking approach, my brows have never fully recovered. But, with a little help from my friends (pencils and powders), I've managed to devise an easy way to fill in my brows that makes them look full and defined.
But there's one catch: My method does come with a few steps. (Luckily, though, those steps are far simpler than plucking your brows into oblivion. Thank god the '90s are over.) When it comes to sparse eyebrows, layering textures is key to adding fullness. So you'll want to start by applying a brow powder first. Grab an angled brush, and use short, dash-like strokes to fill in your brows within your natural line. Then, grab a waxy pencil (like the Benefit Cosmetics Instant Brow Eyebrow Pencil) to define the shape of your brows even more. Just be careful — the second it becomes too blocky or dark, you risk them looking fake and unnatural. The goal, after all, is to add natural-looking dimension to your brows to help frame your face. You'll, well, raise eyebrows — guaranteed.
Check out the entire step-by-step below, and don't forget to subscribe to Bustle on Youtube for more beauty tips and tricks.