One Overlooked Issue Raised In 'Making A Murderer'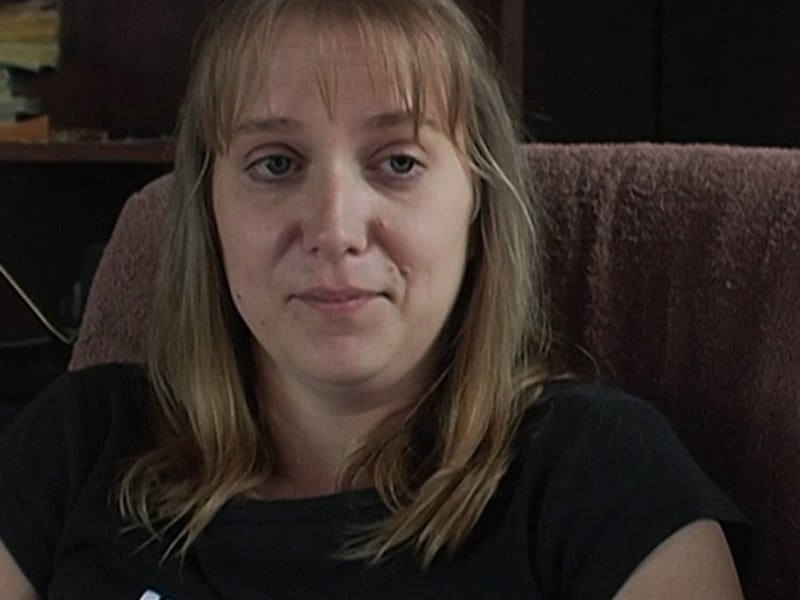 The hit documentary series Making a Murderer raised myriad concerns about the American criminal justice system, but one went largely unnoticed: how Steven Avery's then-fiancee, Jodi Stachowski, was affected by the investigation. Avery's arrest and controversial trial were clearly difficult for Stachowski, as seen in the docuseries. The series shows her eventually leaving her fiancee after her parole officer forbids her from contacting him. (Stachowski later alleged that she had been abused by Avery, which he denies.) Regardless, the Wisconsin woman's struggles highlight how intimate partners of suspects are affected by police investigations, whether they're suspected of being involved in the crimes in question or not.
After Avery was arrested, Stachowski was automatically involved in the investigation because she had talked to him from jail twice on Oct. 31, 2005 — the day Teresa Halbach disappeared. Because calls from jail are recorded, the phone calls (snippets of which are played on the show) could be analyzed independently of Stachowski's memory, but she brings them up multiple times in the documentary to explain why she believed Avery was innocent.
Stachowski had been in jail for driving under the influence, which meant that she couldn't have been considered a suspect in the murder of Halbach. She was on parole during the investigation into Halbach's death. In the documentary, we are told that police and prosecutors are putting a lot of pressure on Stachowski, which both she and Avery claimed was an attempt to get her to leave him. "Investigators were after her since day one, almost," Avery says. (The Manitowoc County police department has maintained that every aspect of their investigation was by the book.)
Stachowski's parole officer gave her a no-contact order, meaning she couldn't even speak to Avery. She was later arrested for allegedly violating the order when she went into town the same day Avery was going to court. The police file shown in the series read, "She saw Steven Avery and smiled as she passed him."
The show claimed that she was arrested three times between June and August of 2006 — though evidence was only shown for the one incident — when the prosecutor was trying to build a case against Avery. She eventually broke up with the man, who was later convicted of Halbach's gruesome murder.
In a phone call to his family documented in the series, Avery said: "The only thing I was hanging on to was her."
Because she was on parole, Stachowski was more vulnerable to the police. Her alleged arrests for minor offenses suggests that she was being more closely watched than she would have been otherwise. The Manitowoc County sheriff did not respond to Bustle's request for comment.
It's important to note that after the series' release, Stachowski publicly said that she thinks Avery is guilty, accused him of abusing her throughout their two-year relationship, and called him a "monster." (Via his lawyer, Avery publicly denied ever abusing her.) One of Avery's lawyers, Jerry Buting, told Rolling Stone in January: "She was getting a lot of pressure, even while the trial was going on, to try and turn her away from Steven Avery. It's many years; who knows what kind of pressure and influences have been exerted against her to try and make [her] express that kind of opinion."
Regardless, this change in Stachowski's public narrative doesn't negate the way she was treated by law enforcement during Avery's investigation. Romantic partners close to those who are suspected of crimes — and in particular, mothers, grandmothers, wives, and girlfriends — can be heavily leaned on by the police because, the thinking goes, they're likely to be in contact with or to help loved ones who are in legal trouble.
Michael Levine, a former investigator and police instructor and now an expert witness for police trials, tells Bustle that it's extremely common for law enforcement to heavily question suspects' romantic partners. This is true for both male and female suspects, but is especially common for straight men in relationships. Explaining why wives and girlfriends are expected to have critical information about suspects' whereabouts or criminal activity, Levine says: "Men notoriously talk carelessly to their woman ... That's a fact."
If the relative or partner being questioned doesn't want to cooperate, there are a number of coercive, yet totally legal, tactics the police can use to "persuade" them. One of the most common is threatening to charge them with aiding and abetting if they doesn't disclose what they know. "That usually becomes the carrot you can dangle over someone's head," says David Thomas, senior researcher at the Police Foundation and a former officer.
Other strategies can include threatening to get the woman evicted from her home, threatening to take away her children, or trying to break the close bond between her and her partner.
"If a person has a child, I have seen investigators say, 'We're going to charge you criminally for this — you're going to lose your child' ... I understand why they do it, but it's also way below the belt."
The same tactics can be used to get men to talk to the authorities when their wives or girlfriends are suspected of a crime, but the difference lies in how often women are arrested compared to men. Women have lower arrest rates for every type of crime except prostitution, so it's more common for women to be questioned about a male suspect than vice versa.
In her book On The Run , sociologist Alice Goffman describes how these manipulations were used in a specific Philadelphia neighborhood in which many young men had police entanglements. An unnamed former Warrant Unit officer tells Goffman, "You always go through the girlfriend, the grandmother, because she knows where he is, and she knows what he's done."
While Goffman's research took place in a black Philadelphia neighborhood, similarities can be found between how she describes police treating the girlfriends and mothers of men they wanted and how Stachowski was seemingly closely watched in her small, predominantly white Wisconsin town. The mother of three young men whom Goffman befriended and closely studied, called Miss Linda, had her home raided multiple times when the police were searching for one of her sons, and was repeatedly threatened with arrest. Goffman writes:
The threat of arrest and imprisonment is a powerful technique of persuasion, and perhaps more so when deployed on women. Fewer women than men go to prison or jail, making it a scarier prospect.
In Stachowski's case, attempting to turn her against Avery seemed, to viewers at least, to be motivated by wanting him to crack once he was alone — not necessarily to get information about his supposed crime out of her. Nevertheless, Making a Murderer's portrayal of her heightened legal troubles and eventual breakup with Avery shed light on how the police sometimes try to use women against the men they love when investigating crimes.
Images: Making a Murderer/Netflix (3)