The Best Shaving Solutions To Prevent Razor Burn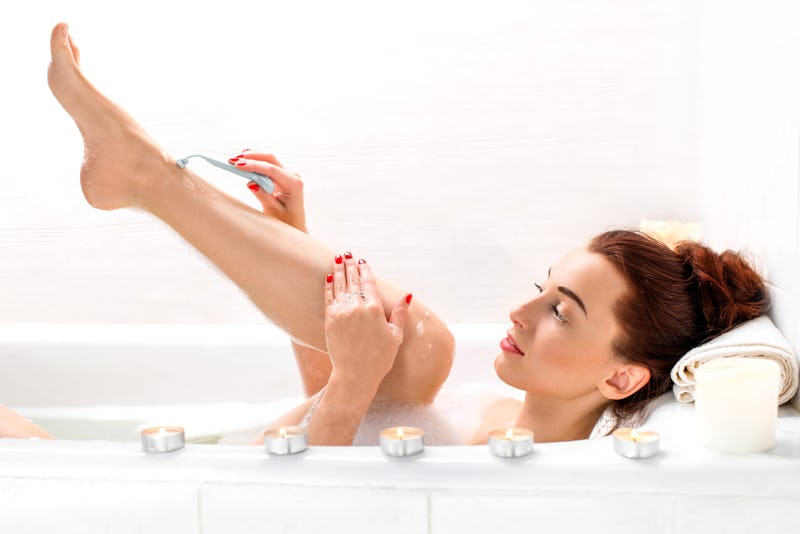 Since shaving is the most common method of hair removal, tons of people suffer from the post-shave bumps, redness, and irritation that pop up soon after the shower (also known as razor burn), and it happens because the hair follicle gets pulled by the razor and ends up irritating the skin around it. When you don't know how to prevent razor burn, then you've got bumps and ingrown hairs, which aren't particularly a load of fun, either.
Nonetheless, a close shave and razor-induced injuries seem like two things that just can't be separated. They just go hand in hand, and if you want hairless underarms or bikini lines, you're just going to have to put up with the pain, right? Wrong.
There are tons of ways to avoid razor burn, whether it's switching out your cream or gel for something a little more soothing and natural, or switching out your razor for a more effective one. In fact, you might even want to switch out your hair removal tool for something that doesn't shave at all, but trims or plucks. Whatever you're looking for, know that you've got options, no matter how sensitive your skin happens to be. Here's a list of my favorite replacements for a friendlier, pain-free shave that won't compromise on quality.
Invest In A Quality Electric Razor
Panasonic Women's Electric Razor, $17, Amazon
Whether you're looking for a wet or dry razor, this electric one by Panasonic utilizes three independently floating heads to get the smoothest, most sensitive shave, wherever you use it. It's super sharp and hypoallergenic, so even the most easily-irritated skin stays rash-free, and it's cordless and rechargeable for travel and convenience. Users say they've said goodbye to bumpy, irritated bikini areas after this guy.
Glide Over The Area With This Bar
Remay Glide And Shave, $20, Amazon
This Ultra-Sensitive Shave Gel Bar has a new and innovative twist: It comes in an easy, hand-held applicator for simple use and added moisture. It's made with coconut oil and tea tree oil — so it'll clean pores instead of clogging them — and it's sulfate- and paraben-free, too. This bar actually raises the hair, so it's easier to get a clean, close shave without any bumps or irritation, and users are absolutely thrilled with it.
Don't Shave The Hair – Epilate It
Satinelle Epilator, $27, Amazon
If you're prone to razor burn, why not ditch your razor altogether? Epilators pull out the hair by the root, and this one by Philips ensures gentle epilation, comfortable handling, and a lasting, smooth result. It's got a double speed setting for multiple hair lengths, and a washable head to make sure that things stay clean and sanitary. Reviewers say it's nowhere near as painful as they thought it would be and achieves the same result as waxing, but without the mess and hassle.
Switch Out Your Cream For A Sensitive Shave Oil
Bikini Soft Smooth Shave Oil, $10, Amazon
Bikini Soft is specifically formulated for people who are prone to razor burn. It can be used on legs, underarm, and bikini lines, and eliminates nicks, cuts, dryness, and ingrown hairs, as well. The formula is hypoallergenic and entirely natural (with ingredients like avocado oil and aloe), and it's got full ratings because it does exactly what it says it'll do — make razor burn a thing of the past.
Angle Your Blades For The Cleanest Shave
Emjoi Sensation Classic Shaving Kit, $25, Amazon
This beautifully designed shaving kit has three perfectly angled blades that are specifically constructed so they don't cause any irritation at all. Whether you're using it for underarms, bikini, or legs, it reaches all the nooks and crannies, and it gives you the result of three-times-over in just one stroke. It also comes in a lovely little case for easy travel. Reviewers say that it's the closest shave they've ever gotten, and doesn't cause any razor burn, either.
Sooth Skin With All Natural Ingredients
Handmade Old-Fashioned Shave Soap, $13, Amazon
If you're looking for something natural that soothes skin and prevents ingrown hairs, look no further than this Handmade Old-Fashioned Shave Soap. It's made with oatmeal, goat's milk, and rose kaolin clay to support skin and create a rich lather for cut-free shaving. Reviewers give this one five stars because it smells great and leaves skin feeling smooth and healthy.
Make It Easy With Multiple Attachments
Bikini Perfect Deluxe Trimmer, $50, Amazon
While razors require a ridiculous amount of precision, this Bikini Perfect Deluxe Trimmer is quite the opposite — it's easy for anyone to use, and its variety of attachments (two trimmers, two combs, a shaver, and an epilator) help you groom anywhere without hassle or pain. It's rechargeable for up to 60 minutes of use, cordless for ultimate convenience, and can be used in both wet or dry settings.
Moisturize With Coconut Oil
Kapuluan Raw Organic Coconut Oil, $18, Amazon
Coconut oil is my favorite go-to shaving tip because it's antibacterial, ultra moisturizing, and really smooth and slippery. This one by Kapuluan is 100 percent organic and cold-pressed, and it comes in this beautiful travel tube for easy application. Best of all, it soothes skin and softens hair, so you'll never again experience razor burn.
Lather Up Naturally For Sensitive Skin
Shea Butter And Coconut Oil Shaving Soap, $13, Amazon
If you're a fan of lathering soaps, this Shea Butter And Coconut Oil Shaving Soap creates a rich foam that won't dry out or irritate skin, unlike other shaving creams. It's made with all-natural ingredients, and it has no artificial colors or fragrances, so it's the best thing for people with sensitive skin. Reviewers say that without any cuts or bumps, shaving just got a whole lot friendlier.
Get Quality Disposables
Hydro Silk Disposable Razors, $7, Amazon
Disposable razors have their advantages, like fresh blades and fewer germs, but if you're going for the cheap drugstore ones, cuts and burns will most definitely ensue. These Hydro Silk Razors are replaceable, but built for a great result. They have five curve-sensing blades to get the closest shave in the shortest amount of strokes, and they also have a water-activated moisture serum to make sure skin stays slick and smooth, without any razor burns whatsoever.
Bustle may receive a portion of sales from products purchased from this article, which was created independently from Bustle's editorial and sales departments.
Images: Fotolia (1); Amazon (10)