9 Ways to Conceal Acne If You Have Oily Skin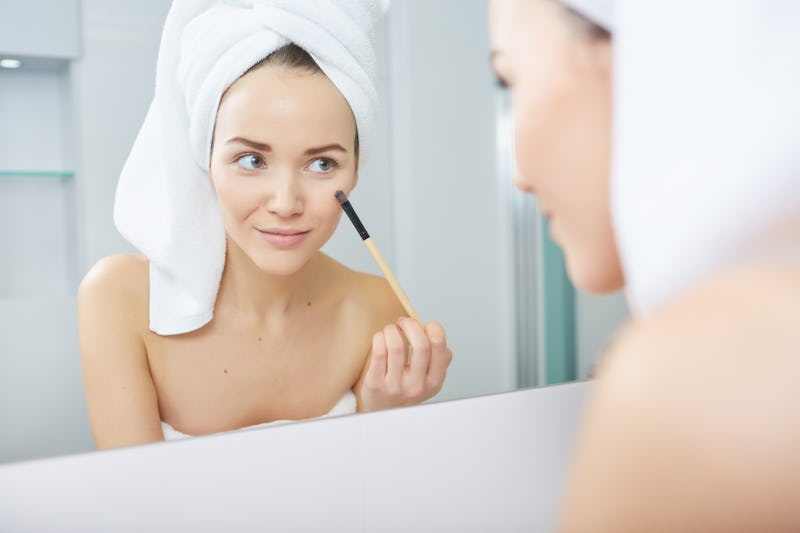 Concealing acne is no easy feat — especially when you wake up 15 minutes late, you're running low on concealer, and all that additional stress is making your skin freak out even more. Add a naturally shiny complexion to that mix, and covering up acne when you have oily skin can be one huge headache. But whether you're looking to add makeup or go 100 percent natural, having oily skin doesn't mean you're destined to settle for a less-than-satisfying beauty routine.
If you are trying to find acne coverage that doesn't get slippery and slide right off around lunch time, you're in luck. There are definitely cover-ups, foundations, and even finishing sprays that specifically target oily skin types, even helping to heal shiny skin as they conceal blemishes. That means you finally can do more than just prevent that greasy feeling from happening — you can actually assist in clearing up breakouts you've been targeting in the first place.
Whether you're interested in long-lasting coverage you can apply in the morning, or you're searching out the ideal desk drawer staple that lets you touch up as needed, your next favorite item for concealing acne (one that won't be deterred by a little oil) is finally here.
Prep With Oil-Free Moisturizer
Mario Badescu Oil-Free Moisturizer, $28, Amazon
Look familiar? This oil-free moisturizer comes from the acne-treatment brand that made a guest appearance on Kylie Jenner's Snapchat, and for good reason: The hydrating formula protects skin from harmful sun rays with SPF 30, and its aloe vera formula calms breakouts. Skin gets oily when you deprive it of needed moisture, so don't cut this crucial step from your routine when shine starts to show.
...Or Create Pre-Makeup Base With Matte Moisturizer
La Roche-Posay Mattifying Moisturizer for Oily Skin, $32, Amazon
Not only does this moisturizer use Vitamins C and E to nourish skin, but its Sebulyse Technology powder absorbs excess oil and even tightens pores. It's gentle enough to be used daily, and one user fighting with oily skin said, "Believe it or not, this is the best shine free moisturizer I ever found!"
Absorb Oil & Sweat With Matte Foundation
Clinique Stay Matte Oil-Free Makeup, $35, Amazon
If your day sees you out in the hot sun often — or you're just no stranger to sweating (hey, who doesn't?) — this matte, oil-free foundation could be your best bet. Not only did its effects test positively at a whopping 80 percent humidity, but the formula actually absorbs your sweat and oil. One user said it's a great foundation, especially because they didn't even have to shop at the department store to bring it home.
Protect Skin From Sun & Shine With Tinted Moisturizer
Stila Sheer Color Tinted Moisturizer, $34, Amazon
If you're looking for a lighter coverage for breakout-prone skin that still stands up to shine, this tinted moisturizer with SPF 20 can be a great solution. Blend its ginger root and chamomile antioxidant-rich formula into your skin to even out red spots, while also concealing shine and oiliness. It's even water-resistant for up to 80 minutes, which means this might be a great addition to your sunscreen routine when hitting the beach.
Conceal Blemishes Without Clogging Pores
NARS Radiant Creamy Concealer, $29, Amazon
Your skin can get oily during a breakout when your pores are clogged with makeup. This creamy concealer is non comedogenic, which means it won't get caught in your pores. Instead, it uses mineral tone balancing powder to play with light, and grape seed and magnolia bark extract hydrate your skin, allowing for light, layered coverage you can apply as needed.
Add Shine-Free Highlighting to Your Concealer
Lorac Double Feature Concealer/Highlighter, $25, Amazon
If you're looking for acne coverage plus a little extra, check out this shine-free concealer and highlighter duo. The concealer stick is completely oil-free and provides full coverage, and users say its ability to match skin tones (available in four other shades) is unparalleled. Plus, its other side is a shimmering highlighter for accentuating cheeks, and one user even said "This doesn't break me out at all, which for me has been a huge caveat with concealers."
Prefer Powder? Duo Wet & Dry Powder Absorbs Oil
Shany Two-Way Foundation, $12, Amazon
This pressed powder is foundation in rare form: The Vitamin E-enriched formula nourishes broken-out skin, and it uses Titanium Dioxide to protect your face from sun damage. Not only that, but you can adjust how intense the coverage is based on your day-to-day needs. Wet a brush for heavier layered coverage in concealing an oily T-zone, or use a dry sponge to lightly absorb oil on days when breakouts are scarce.
...Or Protect With Mineral Powder
Peter Thomas Roth Oily Problem Mineral SPF 30, $22, Amazon
If you frequently suffer from broken-out, oily skin, this mineral powder could be one of your most convenient on-the-go tools. Its powder (already built into the brush) offers a powerful SPF 30 protection, in addition to healing acne with salicylic acid and calming willow bark extract. Users say it's effective at keeping away oil while offering sun protection, and one user said they apply this powder over sunscreen to keep sweat from appearing later.
Set Makeup & Ensure It Stays Shine-Free
Skindinavia The Makeup Finishing Spray, $10, Amazon
After carefully applying each step to your shine-free beauty routine, keep that effort intact with this cult favorite setting spray. Its mattifying temperature-control formula regulates your skin's surface to keep makeup from melting (or flaking up) when temperatures soar or drop. Spray two to four times in a "T" and "X" mark to hold makeup in place. One user said, "This not only worked wonderfully, the smell was light and fresh. Will buy again."
Bustle may receive a portion of sales from products purchased from this article, which was created independently from Bustle's editorial and sales departments.
Images: Fotolia (1); Amazon (9)