Fashion Blogger Lavenda Memory Shows Us Portland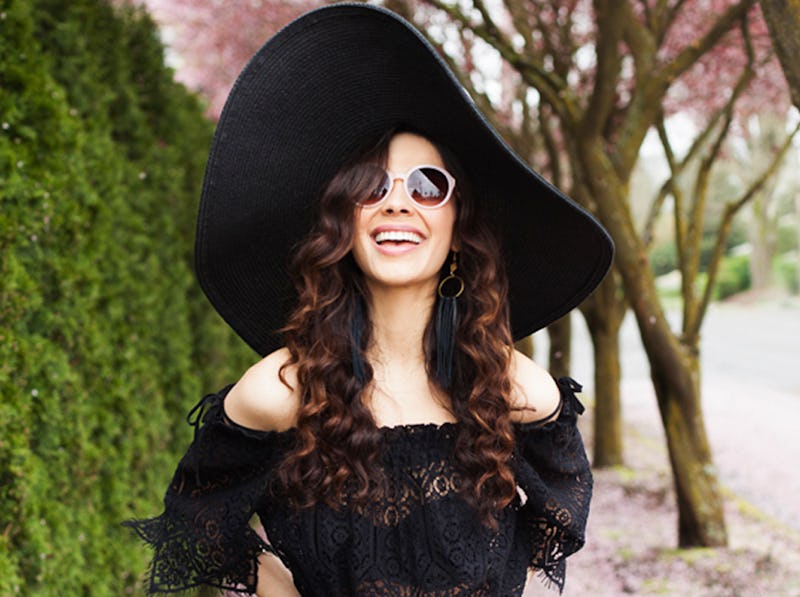 "Keeping it weird" has long been a priority for Portlanders. A local spirit of fierce independence makes it the perfect haven for creators, individuals, and people who blur the lines of life and art. Portland-raised fashion blogger Lavenda Memory of Lavenda's Closet is a living example of this last city tradition. Specifically, she's pretty much living fashion editorial.
With her wardrobe of high-waisted jeans, wide-brim hats, horn-rimmed sunnies and '70s lace up tops, she gives relaxed, vintage-inspired style a level of refinement and attention to detail. This Texas-born chick is at once bohemian, classic, and feminine, without being stuffy. If we could give her magazine spread a very long-winded name, it would be "that girl in the bar who you can't stop staring at 'cause she looks so darn cool."
We can't be too mad about it though. When you've worked as a fashion photographer, as Memory has, this inherent attention to detail is kind of a given. Originally, she started blogging to grow her personal photography network. As traffic picked up, this labor of love became a full-time job.
And like her city, Memory is as down to earth and chill as they come. With the help of H&M, Lavenda gave us a tour of her Portland, wearing the oh-so-chic H&M Spring 2016 collection. After all, there's more to her hometown style than (as Portlandia says) "put a bird on it."
On The City's Spirit Of Individuality
"There's something very casual about Portland overall... It allows me to be free to dress according to my lifestyle of the moment. There are no boxes to conform to or unspoken expectations. It's very liberating."
On Her Ideal Portland Saturday
"In my perfect day, we would have then gone to Mother's to have some breakfast or lunch, before taking our dog for a walk along the waterfront. Then we'd have dinner at Andina's or Departure before catching a show or a play. We would all come home and pass out from a long, adventurous day."
She Loves The Unique Light Of This Northwest Town
"The sunsets are striking in Portland — painting the sky with a warm haze or sometimes bold strips of neon pinks and reds... There's a minimalist design to the landscape and the crisp, white wall takes full advantage of waning light."
This City Keeps It Au Naturel
"I adore how much nature we have surrounding us even within the city. We value the outdoors and have done a great job of protecting parks and trails so that we have access to nature on a daily basis.
One great example is the Japanese Gardens. It's a walk into another land and time."
How She Feels About Her #OOTD
"I adore the mystery of a little lace and the delicate off‐the‐shoulder silhouette of the black, sheer top... The denim caught my eye immediately with the braided waist detail and of course‐ my obsession with high-waisted denim... Together, these two pieces represent a flirty transition into Spring without screaming 'crayon box.'"
Spring Is Her Fave Portland Season
"Spring is by far my favorite season. Watching the cherry blossoms bloom and then sprinkle the streets with their petals is something close to magic. It takes my breath away with the delicate beauty and vibrant colors. Natures reminder that it's a new year, a clean slate and time for change."
This post is sponsored by H&M.
Images: Fotolia (3); Lavenda Memory