The 'Forrest Gump' Gang Reunited & We Wish They Could Remake These 7 Films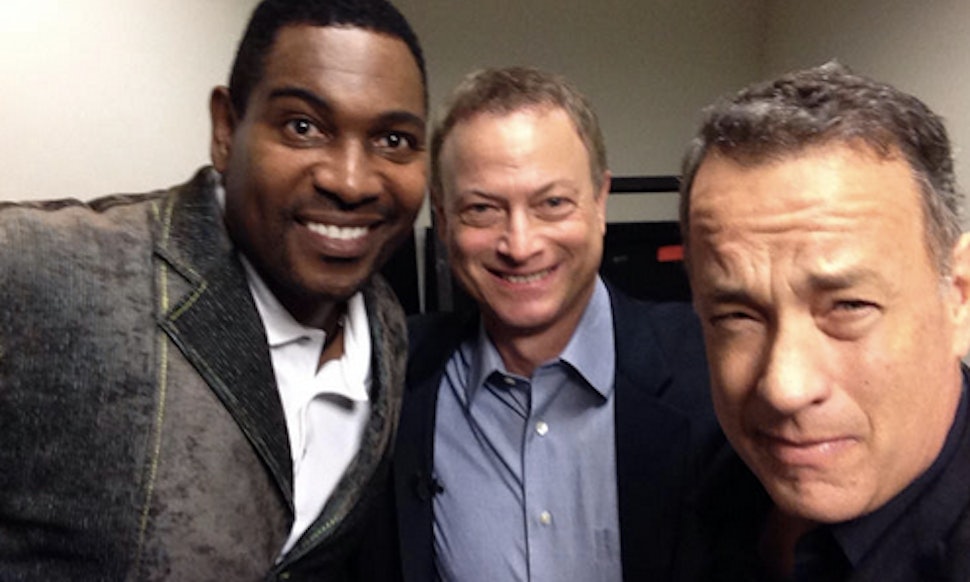 Well if this can't make you feel better about the current status of Planet Earth, I don't know what will. Forrest Gump co-stars (whom I will now be referring to as the Gump Gang), Tom Hanks, Gary Sinise, and Mykelti Williamson reunited Thursday night for a fundraiser held by the Gary Sinise Foundation. Hanks posted the photo of the Gump Gang with the caption, "Hadn't seen these old friends for too long." I couldn't agree more, Mr. Hanks.
And if that doesn't make your heart melt enough, The Gary Sinise Foundation supports America's veterans, defenders, first responders and their families through innovative outreach. The Foundation helps build specially designed homes for injured vets, produces morale-boosting concerts for soldiers abroad and at home, holds community-building events for those who have suffered a loss due to warfare, and much, much more.
After seeing the fellas looking ever so dapper and barely aged in the 20 years it's been since Forrest Gump, it had me wondering why these three don't team up more often. Their chemistry on and off screen is palpable.
Come to think of it, there are about a bajillion movies over the past 20 years that would be vastly improved by the Gump Gang. I've narrowed it down to seven.
Image: TomHanks/WhoSay
'Wild Hogs'
Even William H. Macy couldn't save this one. Scrap the comedy and just go for a heartwarmer here. I would watch the shit out of the Gump Gang on a cross-country motorcycle journey.
Image: Touchstone Pictures
'Last Vegas'
There was so much about this movie that didn't work, which is sort of crazy considering its cast included Michael Douglas, Morgan Freeman, Kevin Kline, and Robert De Niro. But maybe by shooting about a decade younger with the Gump Gang it would be a bit more likable and grounded.
'Grown Ups'
With the Gump Gang on board the movie is about actual adult men rather than a bunch of man children escaping their ridiculously good-looking wives. In Grown Ups: Gump Edition, the three men learn through their lifelong friendship how to tackle the challenges of sending kids off to college and keeping happy marriages. And I don't know, one of them falls in a lake on a fishing weekend because it's still a comedy.
Image: Universal Pictures
'Couples Retreat'
Hey guess what! This movie may have been funny if all of the people weren't so completely unlikable in it. Guess who IS likable? Gump Gang. Forever.
Image: Universal Pictures
'I Now Pronounce You Chuck and Larry'
In it, Sinise and Williamson play two men who get married by their best friend played by Hanks, who also lives as a single man next door. Because, seriously, I can't even believe the Kevin James and Adam Sandler version was ever actually produced.
Image:Universal Pictures
'The Hangover Parts 2 & 3'
Rather than just replaying the first Hangover movie in different locations, these new remakes focus on the folks living on the outside of Vegas who witness the insanity rolling in and out of town. The Gump Gang owns a 24-hour Waffle House that is home to Vegas' worst hangovers. Obviously, Sinise is the grumpy fry cook.
Image: Warner Bros.
'The Expendables'
This Gump Gang version is like 007 on Nintendo 64 when you play in "slaps only" mode. This already sounds better, doesn't it? It does.
Image: Millenium Films