Let's Talk About This Junk Mail Fail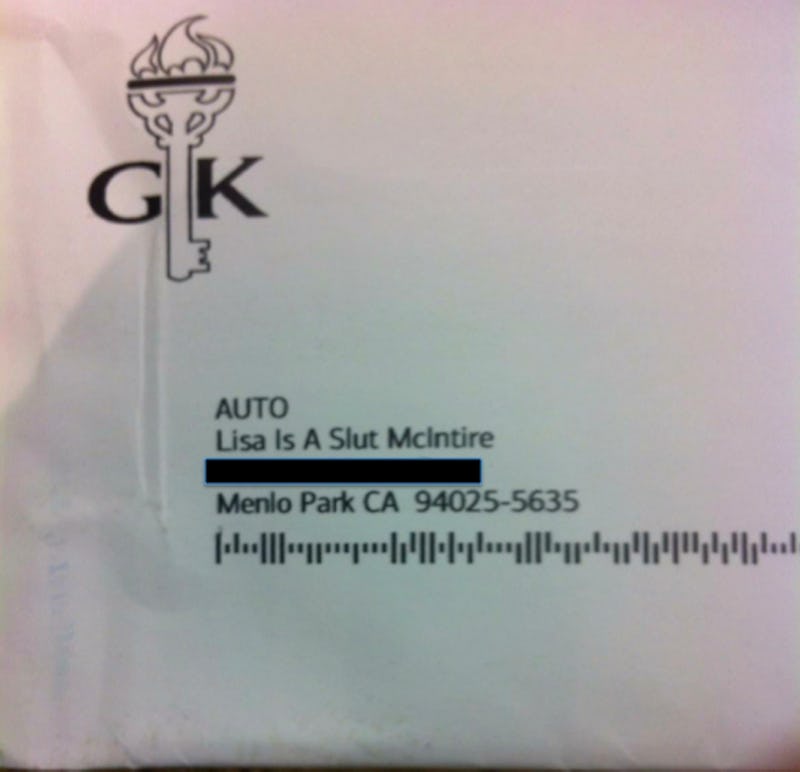 A new customer service low for Bank of America? A recent credit card offer from the bank came addressed to "Lisa Is A Slut McIntire." The Golden Key-branded Visa offer inside started by announcing "Lisa Is A Slut McIntire, you've earned this special offer... " The oversight seems to trace back to data from the Golden Key International Honor Society.
After being alerted to the junk mail by her mom, McIntire tweeted a picture to Bank of America. The bank responded that it was "incredibly sorry" and researching what had happened. Eventually the mistake was traced back to Golden Key, of which McIntire had once been a member. A spokeswoman told McIntire someone had changed her middle name to "Is A Slut" on the society membership page sometime between 2004 and 2008.
"What kind of got my adrenaline pumping is that I'm a feminist writer on the Internet, so getting a piece of mail that my mom is opening that says I'm a 'slut' made me think, 'Oh god, which troll of mine is doing this?' " McIntire told the Times. "But I don't think that's what happened here. ... My working theory is that this is some data entry person [messing] around. I don't think it's aimed at me."
I love so much that McIntire isn't making a big deal of this, which is obviously a little bit hilarious when you rule out malicious intent.