James Corden's Tribute To Prince Is A Must-See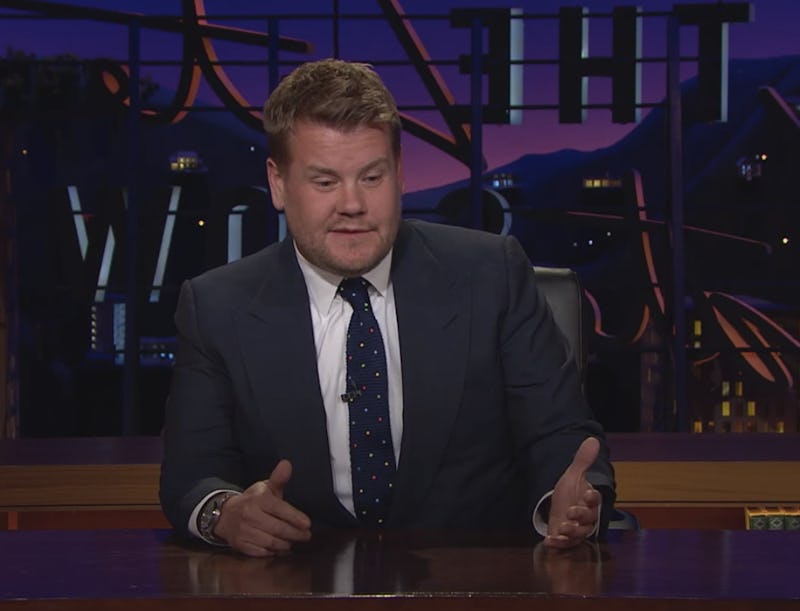 It's no secret that James Corden is easily the nicest man on television (and probably off it, too). So it's hardly surprising that the British entertainer made time for a special segment at the beginning of Thursday's The Late Late Show With James Corden to pay tribute to musician/genius Prince, who passed away on Thursday from as yet unknown causes. The James Corden TV tribute to Prince is touching in how utterly unprepared and genuinely from the heart it seems to be. The host appears to have improvised the majority of it, and, at several points during the two minute video, Corden appears to be on the verge of tears.
"I don't know where to start when I talk about Prince as an artist, because to be unique in this world is impossible. Almost all art is taken or borrowed from somewhere else and yet an artist like Prince stands alone: he is completely original," Corden says. He also reflects on the times he's seen Prince perform live, and things appear to work differently in London: apparently Prince would appear at the larger venue and mention he'd be performing somewhere smaller later, thus triggering a mad mass dash across London on the part of his concert audience.
What's so lovely about Corden's tribute is that, although he's a big star, he appears to speak for all of us. He didn't know Prince personally; he was just profoundly touched by his music and was a devoted fan. As such, there's no name-dropping or personal anecdotes, but just a very touching description of what it means to have a lot of big feelings as a fan for someone you have never met, will never meet, but whose music means the world to you anyway. Respect to James Corden for encapsulating all of the difficult feelings Prince fans are experiencing right now in such a concise and eloquent way.
Images: TheLateLateShowwithJamesCorden/YouTube