9 Shower Habits Causing You More Harm Than Good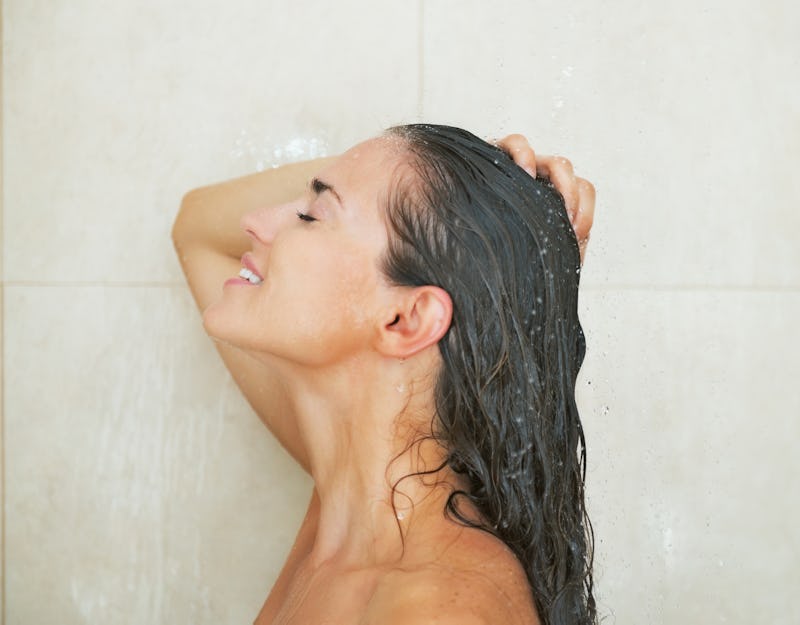 When I jumped on the clean eating bandwagon, I thought my diet was the only thing I'd have to change. The last place I would've ever thought to look for the source of toxins was in my shower, but it turns out that bad shower habits can cause a lot more harm than good. The further I dove into the holistic health world, the more I realized that the books and the seminars and the conventions and the health gurus were all saying the same thing: "Your skin is an organ, and it is extremely porous. Watch what you put on it."
Most people (especially those who are super into creams, soaps, cosmetics, and beauty products) don't realize that their skin is essentially one giant sponge, and this was a hard one for me to handle. I'm huge into my daily shower, I love my morning routine, and smelling good is a top priority for me. Eventually, though, I learned to find a middle ground between the two. I learned to use things that feature more natural and organic ingredients — ones that keep my natural oils and skin bacteria intact — and soon enough, my shower routine was transformed into a low-toxin, chemical-free, and healthy experience, like it should be.
Exfoliating With Harsh Irritants
Jasmine Organic Sea Salt Body Scrub , $20, Amazon
Those plastic microbeads just got banned from beauty products (good thing, as they're terrible for both you and the environment). Jasmine Organic's body scrub uses nothing but organic, pronounceable ingredients: organic sea salt, almond oil, jojoba oil, jasmine flower, and jasmine essential oil. It gently washes away dead skin while nourishing and hydrating the layer underneath, and reviewers say that the result is positively magnificent — skin feels smooth to the touch, and the smell that fills up your shower is heavenly. You're buffing away old skin to reveal new, vulnerable skin underneath, so it's imperative to make sure that you're exposing that skin to only the safest, most natural ingredients.
Washing Yourself With Chlorinated Water
Clearly Pure Showerhead Filter , $23, Amazon
While we originally started putting chlorine into tap water to make sure it was sanitary, chlorine has since been linked to cancer and heart disease, among other health issues, and your body absorbs it straight through the skin. This filter, though, provides a convenient and affordable way to remove up to 90 percent of the chlorine in your tap water. It's really easy to install, efficiently limits water waste without affecting pressure, has three separate settings, swivels for easy positioning, and is clear in some areas — so you can actually see your water being filtered.
Using A Synthetic Sponge
Riverlight Naturals Konjac Body Sponges , $25, Amazon
Sponges are usually a breeding ground for bacteria, and because they're synthetic and often poorly made, they start to break down over time. These natural konjac sponges, though, contain nothing but ground root of the konnyaku plant and bamboo charcoal. The first gently exfoliates skin (while using its natural anti-bacterial qualities to cleanse both itself and your skin), and the second pulls impurities right out from your pores. They're also environmentally friendly, come in a pack of two, and include a suction hook for easy and sanitary storage in your shower.
Washing Your Hair With Shampoo
Briogeo Be Gentle, Be Kind Co-Wash , $18, Amazon
More often than not, regular shampoos are filled with sulfates, preservatives, synthetic coloring and fragrances, and detergents that strip the oils that your body works so hard to make — the same oils that strengthen and moisturize your hair from root to tip. Co-washes like Briogeo's (also known as conditioning washes, or cleansing conditioners) use gentle and hydrating ingredients to carefully clear dirt and build-up without harming natural oil production. This one in particular uses nourishing ingredients like avocado, shea, aloe, and quinoa extract, but skips all the sulfates, parabens, and silicones. Reviewers love how soft and manageable their hair is, and the smell is light, clean, and pleasant.
Not Treating Your Razor Bumps
Organic Razor Bumps Treatment Serum , $18, Amazon
Those post-shave bumps and ingrown hairs might just seem annoying, but they can easily become infected if not treated properly. Treat those microscopic skin tears from your razor with an organic razor bumps serum. This one uses all-natural and organic ingredients like witch hazel, aloe vera, lavender, lemon, and essential oils to fight bacteria, soothe irritated skin, heal bumps and cuts, and sanitize the area. Reviewers say it works best when used in the shower, and after they made this serum a regular part of their routine, itching and infections became a thing of the past.
Stripping Healthy Flora With Chemicals
One With Nature Dead Sea Mud Soap , $6, Amazon
Your skin has a very delicate system of microorganisms and bacteria called "flora," which protect, heal, and moderate skin. When harsh chemical-filled soaps wipe all of them out, skin is left susceptible to infections, fungi, eczema, and breakouts. Whenever possible, it's better to use gentler, natural formulas like a Dead Sea mud soap. This bar uses entirely natural ingredients like sea salt from the Dead Sea, argan oil, and shea butter to restore the pH of your skin and cleanse without harming. Reviewers say it might just be the best soap they've ever used because skin feels smooth, hydrated, and clean.
Skipping The Moisturization Step
Plant Guru Carrier Oils , $23, Amazon
Dermatologists suggest applying a moisturizer directly after a shower, as pores are open and skin is extra absorbent because of the heat. However, if you're using moisturizers with fillers and toxins, you'd better believe that those are likely getting absorbed, too. Your best bet is to use entirely natural oils, like the ones in this plant oils set. Each one is super high-quality and minimally processed to preserve their health-giving qualities, and because they come in a set of four, you can choose based on what your skin needs that day. The coconut oil is wonderful for moisturizing, the grapeseed oil is great for toning, the sweet almond oil is ideal for reducing signs of sun exposure, and the avocado oil is a great option for eczema.
Forgetting To Re-Nourish Hair
Organic Moroccan Argan Oil , $17, Amazon
Frequent washes take a lot out of your hair, as does heat processing and color treatments. Hot oil treatments are recommended weekly fixes that moisturize and strengthen your hair while promoting new growth at the roots. This organic oil is a great choice because it's packed with nutrients, vitamins, fatty acids, and antioxidants that penetrate the strand and heal hair from the inside out. Furthermore, it increases circulation and creates new, healthy growth. This brand is certified USDA organic, cold-pressed, virgin, and kept in a translucent glass jar to preserve all the natural nutrients. It also has a dropper for easy application, and reviewers love it because it's one of the highest quality argan oils on the market.
Using Poor-Quality Disposable Razors
Vikings Double Blade Safety Razor , $33, Amazon
The Vikings Blade safety razor is one of the highest rated blades out there because it's made from Swedish steel, which makes it extremely heavy-duty. A textured handle allows for loads of control, too, while the blade is expertly crafted (meaning you get an ultra-close shave). Both men and women are hopping on the safety razor bandwagon now because safety razors provide a closer shave, cause fewer cuts, bumps, and ingrown hairs, and they're more sanitary than their cheaper counterparts. This razor also comes with a travel case, mirror, and five replacement blades, and while this one has mostly male buyers, the female commenters say that their legs have never felt smoother.
Bustle may receive a portion of sales from products purchased from this article, which was created independently from Bustle's editorial and sales departments.
Images: Fotolia (1); Amazon (9)