Why This Photo Of A Trans Child Is So Important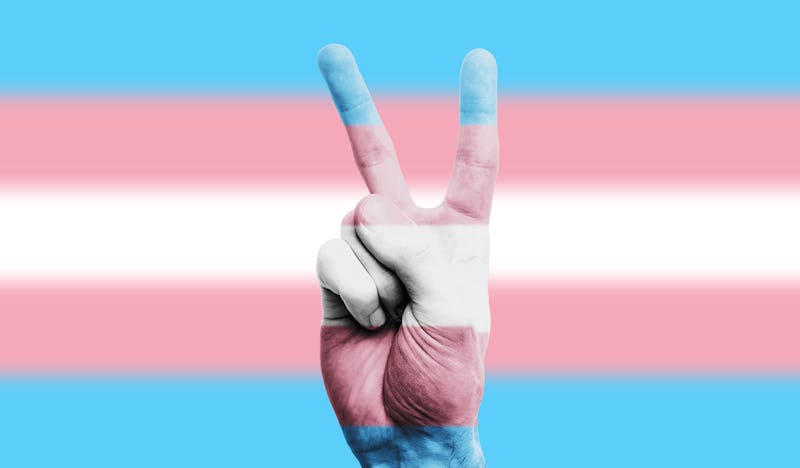 In the weeks since North Carolina enacted the controversial anti-LGBTQ legislation known as House Bill 2, social media has seen an outpouring of support for transgender individuals affected by the law. Most recently, photographer Meg Bitton's photoshoot with a transgender child has gone viral after Bitton posted the images in protest of HB2. In addition to nullifying existing local ordinances protecting LGBTQ individuals — in other words, preventing cities from enacting anti-discrimination laws that differ from statewide standards — many have criticized HB2 for banning trans individuals from using public bathrooms corresponding to their gender identity.
Bitton joined these critics on Tuesday when she posted an image on Facebook of a transgender girl whom she had photographed last December. "If this was YOUR daughter, would you be comfortable sending her into a men's bathroom?" Bitton wrote in the post. "Neither would I. Be fair. Be kind. Be empathetic. Treat others how you would like to be treated."
The photograph depicts the child wearing typical photoshoot-ready hair and makeup, and Bitton wrote on Facebook that she edited the image "the way [the child] would like it." Bitton tells Bustle over email that she uploaded the images publicly when the photoshoot took place in December, but she decided to post one to Facebook again after speaking with the child's mother. "[Her mother] made a meme out of one of them and we discussed me posting again in support," Bitton writes.
The post quickly went viral, with more than 18,000 shares in less than three days, and it was flooded with thousands of positive and negative comments. As a result, Bitton has added to the original post to clarify her own stance and explicitly state that the girl is transgender. "Under the new laws, SHE would be forced to use the men's room," Bitton wrote in an edit. "Therefore, I would not be comfortable sending HER into the men's room if she was my daughter." In a later edit, she wrote that the negative comments were so overwhelming that she contemplated deleting the post, but she ultimately chose to keep it up at the mother's request.
Despite the negativity, Bitton tells Bustle that the reaction has actually been positive for the most part. "The unfortunate part... is those raising a ridiculous ruckus seem to scream the loudest," she writes.
Bitton's photography joins a wide range of other protests directed at HB2, which many see as a shocking step backwards for LGBT rights. Some protests were literal: On April 25, Advocate reported that executive director of the National Center for Transgender Equality Mara Keisling was arrested during a peaceful sit-in protesting HB2, and trans activist and model Rain Dove demonstrated against the legislation earlier this month.
The social media posts by trans people affected by the bill are equally powerful. Earlier this week, trans woman Sarah McBride took a selfie in a North Carolina women's bathroom and posted it to Instagram along with a caption explaining how deeply her life is affected by anti-trans sentiment. "Barring md from this restroom doesn't help anyone. And allowing me to continue to use this bathroom — just without fear of discrimination and harassment — doesn't hurt anyone," she wrote. "Stop this. We are good people."
Fortunately, some North Carolina lawmakers have taken note: On April 25, House Democrats filed a bill to repeal HB2 in full.
Images: Fotolia; courtesy of Meg Bitton