How To Know If You Should See 'Pompeii,' 'In Secret,' or Another Movie This Weekend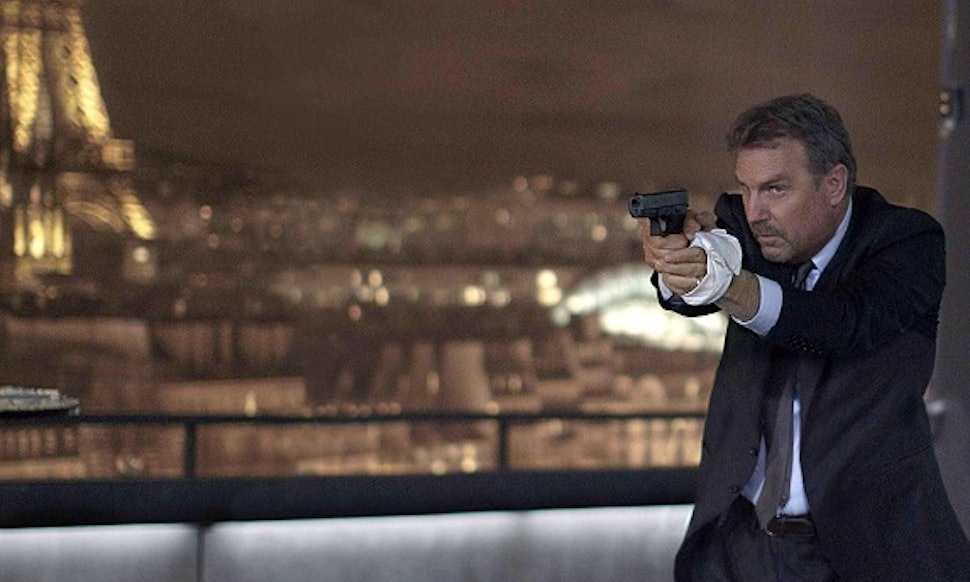 It's no secret that the first few months of the year are generally considered slow for movies, but this weekend, that's all about to change. An impressive 11 movies are set to hit theaters this weekend, ranging from disaster porn (hellloooo Pompeii) to documentaries (Elaine Stritch: Shoot Me). Finally, for the first weekend all year, a moviegoer desperate for cinematic entertainment has some choices.
Still, all those options can get pretty overwhelming. To help you figure out which film is right for you, let's take a look at each of the eleven ten movies released this weekend.
Image: Relativity Media
'3 Days to Kill'
About: A dying Secret Service agent (Kevin Costner) who accepts one last assignment in exchange for treatment, while trying to reconnect with his estranged teenage daughter (Hailee Steinfeld).
See It If: The words "Kevin Costner comeback" ignite something other than dread in you. So, 40-something women and dads who re-watch Field of Dreams at least once a year.
Image: Relativity Media
'Pompeii'
About: A slave-turned-gladiator (Kit Harington) who fights to save his true love (Emily Browning) from an arranged marriage to a dangerous man (Kiefer Sutherland), all while Mount Vesuvius erupts and Pompeii begins to crumble.
See It If: You're in serious Game of Thrones withdrawal. There is no other reason.
Image: TriStar Pictures
'In Secret'
About: A sexually repressed woman (Elizabeth Olsen) in a loveless marriage who begins an affair with her husband's friend (Oscar Isaac), set in 1860s Paris.
See It If: You loved the book, or at least pretended to. Also, if you're one of the few people who don't find the idea of Draco Malfoy marrying an Olsen sibling completely freaky.
Image: Roadside Attractions
'Elaine Stritch: Shoot Me'
About: The life of Elaine Stritch, the Emmy-winning, 87-year-old Broadway legend, featuring appearances by Tina Fey, Alec Baldwin, and more.
See It If: You thought Joan Rivers: A Piece of Work was the biggest Oscar snub of 2011.
Image: Isotope Films
'Omar'
About: A Palestinian baker (Adam Bakri) who, after assisting in the murder of an Israeli soldier, agrees to work as an informant in exchange for his freedom.
See It If: You're serious about seeing all of this year's Oscar nominees, even the ones with subtitles.
Image: TriStar Pictures
'Almost Human'
About: A detective (Graham Skipper) grieving over the disappearance of his best friend (Josh Ethier) deals with the friend's sudden, murderous return.
See It If: Probably-crappy horror movies are your kryptonite.
Image: Channel 83 Films
'Barefoot'
About: The relationship between an odd, "black sheep" man (Scott Speedman) and a mental patient (Evan Rachel Wood).
See It If: Silver Linings Playbook was a bit too mainstream for you.
Image: WhiteFlame Productions
'The Wind Rises'
About: The tumultuous life of Jiro Horikoshi (Joseph Gordon-Levitt), a Japanese fighter plane designer during World War II considered one of the best airplane designers in history.
See It If: The name Hayao Miyazaki means anything to you. Also, if the idea of Emily Blunt, Mandy Patinkin, and Jennifer Grey all in the same movie — even an animated one — sounds pretty great.
Image: Touchstone Pictures
'Holy Ghost People'
About: A woman (Emma Greenwell) who enlists the help of an alcoholic ex-Marine (Brendan McCarthy) to find her missing sister (Buffy Charlet), currently trapped in a dangerous religious croup.
See It If: You remember the 1967 documentary it's based on, or if you just have a craving for probably terrible psychological thrillers.
Image: XLrator
'Highway'
About: The abduction of a young woman (Alia Bhatt) about to get married, and the dilemma of the kidnappers who realize that their victim is the daughter of a powerful man.
See It If: You're ready for a movie about Stockholm Syndrome that's less Labor Day, more Crouching Tiger.
Image: UTV Motion Pictures
'Vengeance'
About: A retired cop (Danny Trejo) who seeks revenge after being wrongfully convicted of murdering his wife and daughter.
See It If: Machete Kills wasn't violent enough for you. Also, if you believe that Danny Trejo qualifies as "iconic."
Image: ITN