Nyle DiMarco Touched Hearts On 'DWTS'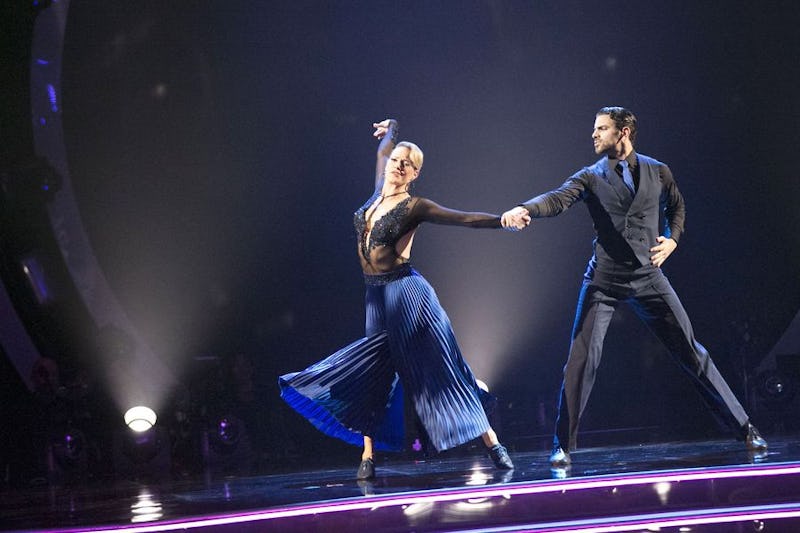 As if Nyle DiMarco couldn't get any better on Dancing With The Stars, he goes and makes everyone in the audience cry their little eyes out. Even the judges and Erin Andrews could barely get through the show. Okay, let me back up — this week, it was Nyle and Peta's turn at the paso doble (which is my favorite dance on Dancing With The Stars, in case anyone cared). To signify how Nyle experiences the dancing, Peta and Nyle were really dead set on putting some silence in the set — and there wasn't a dry eye in the house.
The set up was that after a part of the paso, Nyle danced with a few of the professional dancers — in complete silence. In the pre-dance interview, Nyle and Peta explained that they wanted to show how hard it is to do what Nyle's been doing all of these weeks. He's at the top of the leaderboard, sure, but that's not without some serious work. Nyle works basically on vibrations and directions from Peta — he can't hear anything. At all. Some of the professional dancers were actually having trouble getting the moves right without the music, and it's something that Nyle has dealt with since day one.
Of course, everyone got very emotional after the dance, because it showed what a strong person Nyle is and how hard he works just to be on Dancing With The Stars. He and Peta earned a 29 for their trouble (of course Len gave them a nine and not a ten), and I just don't see how Nyle can be stopped at this point. Next week is the semi-finals, and Nyle DiMarco is totally making it to at least the top three — you can quote me on that one. Nyle's got musicality and rhythm in spades.
Images: Adam Taylor/ABC