Coldplay's "Up&Up" Is A Guaranteed Brain Tease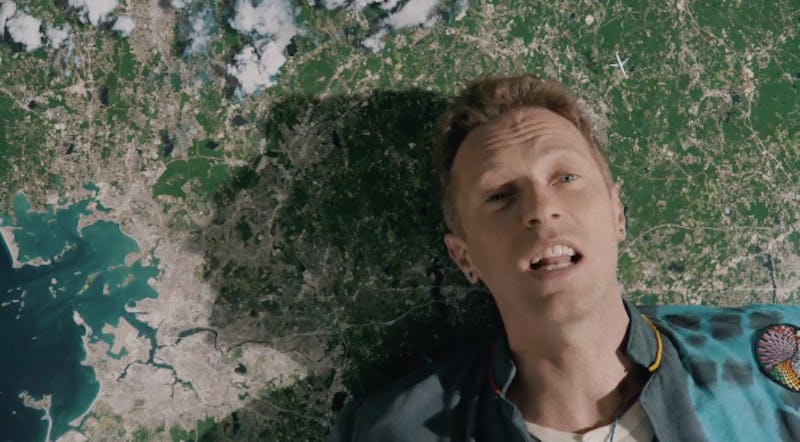 I have to say, despite rumblings about perpetually divisive Coldplay, the band seems to be in peak form. First of all, they were blessed Beyonce who was nice enough to grace her presence to their Superbowl 50 Half-Time Show performance, and even nicer of her to guest spot on "Hymn For The Weekend." But now they're releasing another single off their seventh album a Head Full of Dreams, and even though the music video for "Up&Up" is sans Beyonce, it's still a hell of a visual trip.
The rough concept behind "Up&Up" seems to feature a melange of imagery either truncated, maximized, or put out of place. There are skyscrapers in your cereal bowls, bridges in your rain puddles, soccer games on your sponges, everything is distorted to be completely not true to size. All the while, the band looms as enormous entities in the clouds or, in Chris Martin's case, low-key laying down on the Earth's crust. Does this mean that Martin and co. find themselves to be larger-than-life and Godlike among all the chaos? The size choice might imply such, or it might be played for irony, or perhaps it's to lend itself to the overall strange quality of the video.
There's a definitely a fluidity within "Up&Up" that makes it feel dreamlike. From synchronized swimmers in tea cups to whales flying in the sky, there's definitely a subtle fascination with water. The final overlay incorporates grainy, vintage-looking aesthetics at random. In short, think of that surreal tapestry from Society6 that you're not sure about getting: it's an entire video of that.
For what it's worth, though, "Up&Up"seems to be an enjoyable brain-tease if I've ever seen one. Though I find the lack of Beyonce disturbing, feel free to check out Coldplay's bizarro visual playground below.
Images: YouTube (1)