If You Loved These Oscar Nominated Movies, Then You'll Love These Books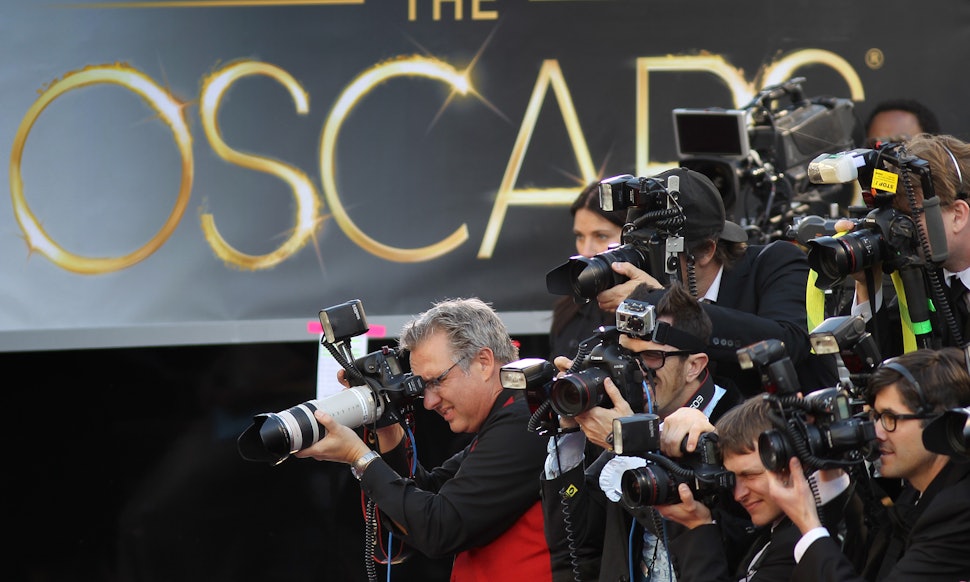 David McNew/Getty Images Entertainment/Getty Images
This was an especially good year for movies, and there are nine great ones nominated for Best Picture at the 2014 Oscars this week. Each movie might only be a couple of hours long, but that's enough time to spark a new obsession, or to feel transported to another place (I had to see Her twice because I was so enamored with the art direction and the hi-tech doodads). Curious to learn more about the history surrounding 12 Years a Slave? Did Gravity reignite your childhood daydreams about space travel? Here, some excellent books to accompany your new favorite movies, and keep you in your rabbit hole.
'American Hustle' → 'The Sting Man'
Couldn't get enough of David O. Russell's con artist dramedy? Read up on the true story it's loosely based on in Robert W. Greene's The Sting Man: Inside Abscam.
Image: Columbia Pictures
'Captain Phillips' → 'A Captain's Duty'/'The Princess Bride'
If you were able to make it through the movie without having a heart attack, check out the real Captain Richard Phillips' account of his kidnapping, A Captain's Duty: Somali Pirates, Navy SEALs, and Dangerous Days at Sea. For some lighter, less panic attack-y fare, follow the fictional Dread Pirate Roberts in William Goldman's The Princess Bride.
Image: Columbia Pictures
'Dallas Buyers Club' → 'And the Band Played On'
Were you moved by the plight of AIDS patients in the Matthew McConaughey-centric biopic? You'll become engrossed in And the Band Played On: Politics, People, and the AIDS Epidemic by Randy Shilts, which was written in 1987 and is still considered to be one of the best, most comprehensive looks at the early days of the AIDS crisis.
Image: Focus Features
'Gravity' → 'The Hitchhiker's Guide to the Galaxy'
Free-floating through space is a lot less scary when you've got a handy guide. Douglas Adams' The Hitchhiker's Guide to the Galaxy will let you traverse the universe while staying close to Earth.
Image: Warner Bros. Pictures
'Her' → 'Fahrenheit 451'
Spike Jonze's untraditional love story is moving, but the gadgets — controller-less video games, keypad-less computers, totally personalized operating systems — that populate the film's near future are the real stars, as innovative as they are plausible. Like being privy to possible tech advancements? You'll love Ray Bradbury's Fahrenheit 451, which predicted the existence of ATMs, earbuds and flatscreens way back in 1953.
Image: Warner Bros. Pictures
'The Wolf of Wall Street' → 'The Bonfire of the Vanities'
Get more fed up with Wall Street excess and entitlement with Tom Wolfe's classic The Bonfire of the Vanities.
Image: Paramount Pictures
'12 Years a Slave' → 'Beloved'
Brutally authentic in its depiction of slavery's horrors, Toni Morrison's Beloved is similarly devastating in its portrayal of slaves' lives. Looking for non-fiction? The movie is based upon Solomon Northrup's memoir of the same name.
Image: Fox Searchlight
'Philomena' → 'Childhood Interrupted'
Philomena is about one woman's search for the son she was forced to give up while in the care of nuns; Kathleen O'Malley's Childhood Interrupted is the reverse. O'Malley was removed from her mother's home and raised by Irish nuns who subjected her to physical and emotional abuse.
Image: The Weinstein Company
'Nebraska' → 'On the Road'
Nebraska got you itching for a road trip? Join another man searching for the meaning of life in Jack Kerouac's On the Road.
Image: Paramount Vantage