Adam Wakefield's Original Song Will Make You Cry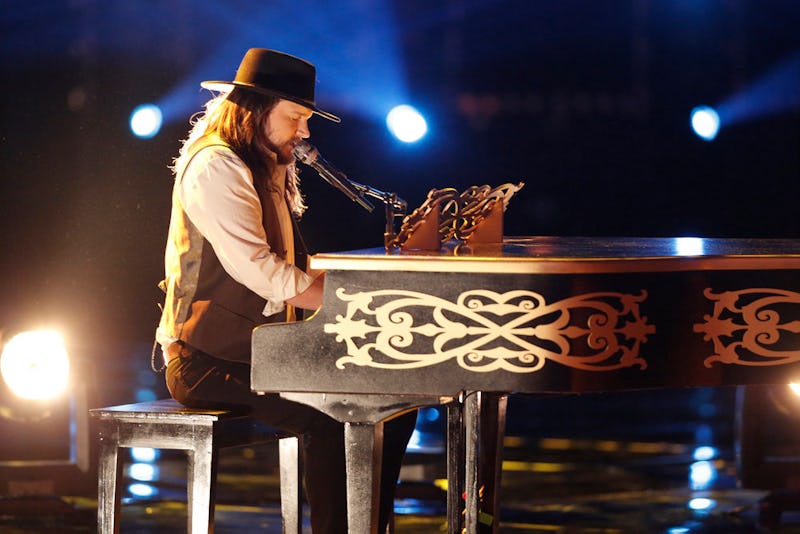 Could another country singer win The Voice? It's possible, thanks to this season's resident country boy Adam Wakefield. The Team Blake singer performed his original song on tonight's finale show and it's basically guaranteed to be a hit. "Lonesome, Broken and Blue," which Wakefield wrote himself, is just as sad as it sounds, but that's why it works. It allows his strong vocals and performance ability to really shine. Wakefield's single is what's going to put him on the map, and potentially win The Voice title.
It's no secret that The Voice fans love country artists. This certainly works in Wakefield's favor, but he doesn't need the help. Even though his preferred genre is technically "niche," his pure sound is universal. This has never been more clear than during his performance of "Lonesome, Broken and Blue." It doesn't matter that his song is a country ballad, it's an overall great song and it's going to appeal to anyone who is a lover of good music. Wakefield's vocals were clean and his emotion was palpable. His performance was entirely believable and really tugged on the heartstrings. It was the work of a true artist and proved exactly why Wakefield made it to the finale in the first place.
This is a tough season to compete in because the talent is just so good. But Wakefield has risen to the top and proven that he will do everything he can to stay there. A win for Wakefield is still possible, especially after tonight. More likely than not, though, the title will be awarded to one of season's female powerhouses, Hannah Huston or Alisan Porter. Win or not, Wakefield is an extremely talented artist who deserves his own recording contract, and something tells me he will get one.
Image: Tyler Golden/NBC