'Star Wars' Stromtroopers Storm The Dance Floor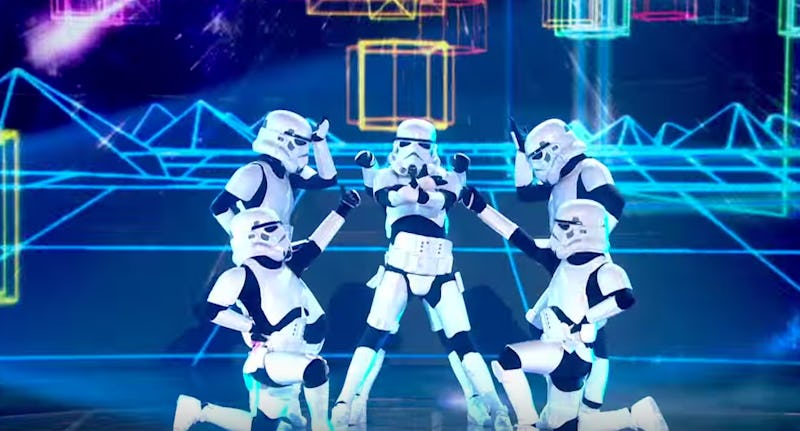 Star Wars fans, you might think that Stormtroopers are a bunch of no-fun-having workaholics, but oh, you would be wrong. Never underestimate what these fictional characters do when left to their own devices. As it turns out, they at least have enough downtime to choreograph dances to the latest and greatest pop hits. According to Entertainment Weekly, a dance group called Boogie Storm appeared on the Britain's Got Talent finale as stormtroopers, and they totally stole the show with their dancing abilities. Let's put it this way — even Simon Cowell cracked a smile at their routine, which involved a silly get up with serious moves.
It appears that the same stormtrooper uniforms that allow the space soldiers to infiltrate, hunt, and try (and miss) shooting lasers at the rebels also enables them to be agile enough to deliver a performance with sass and spunk. It's good to know they're useful for more than their evil bidding. In fact, per EW, the fantastical dance crew's uniforms proved to be the opposite of a problem, as the group apparently clenched the third place title.
But enough talking about it. To fully get the stormtrooper dance experience, see their moves to the various songs they danced to, below:
The Weather Girls, "It's Raining Men"
I'm a sucker for props, I really am.
LMFAO, "Sexy And I Know It"
Little known fact: Twerking is a skill that every stormtrooper must exact.
Spice Girls, "Spice Up Your Life"
Just a casual backflip, no big deal.
Diana Ross, "I'm Coming Out"
The boa adds so much.
Madonna, "Vogue"
YASSSSS.
Justin Bieber, "Sorry"
They can really move their hips.
Bill Medley And Jennifer Warnes, "I've Had The Time Of My Life"
Nailed it.
And The Most Important Move Of All, Wooing Simon Cowell
Or, as I like to affectionately refer to him, "The Emperor."
I'll never look at a stormtrooper the same way again, that's for sure.
Images: Britain's Got Talent/YouTube