Whitney Way Thore's Memoir Is Coming Soon — CLIP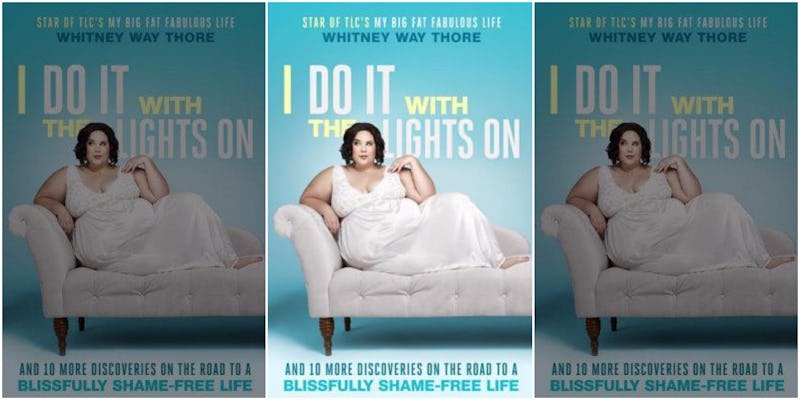 Whitney Way Thore is one incredible body positive ambassador — from her viral response to Nicole Arbour's horrible Dear Fat People video to her role in the reality show My Big Fat Fabulous Life, she has proved to be a huge inspiration. That's why her memoir, I Do It With The Lights On , is on all of our summer reading lists this year — and it's why we're especially excited to have teamed up with Audible to bring you an exclusive clip of Thore herself reading the audiobook.
Thore has always had a very inspiring approach to her fatness, which is explored in I Do It With The Lights On. While her body positivity has helped a lot of other fat people to see themselves as beautiful and she thinks that seeing plus size models redefe beauty is great, she also doesn't think too much emphasis should be placed on the idea of beauty at all. She told Marie Southard Ospina at Bustle last year that "it doesn't matter whether someone sees you as beautiful or not, because we all deserve respect."
She's also unafraid of using the word "fat." Thore told The Gloss, "I'm fat! It's just a word. It is what I am; I'm just not embarrassed of it. It's not a shameful thing for me. I have struggles and I have different issues that go along with being fat, just like everyone has issues, but I'm not embarrassed of the fact that I'm fat. On the other hand, I'm also not proud that I'm fat. People say that a lot: 'Why are you proud to be fat?' I'm just proud to be myself, I just happen to be fat."
Bustle is proud to present an exclusive clip of I Do It With The Lights On, and it's got us so excited for the audiobook (which you can pre-order from Audible right here) to be released on June 7th. Whitney Way Thore is funny, engaging and confident — and her equally hilarious and inspiring memoir really comes to life when narrated by the reality star herself.
Image: Whitney Way Thore/YouTube