10 Beauty Mistakes You're Making In Your 20s & 30s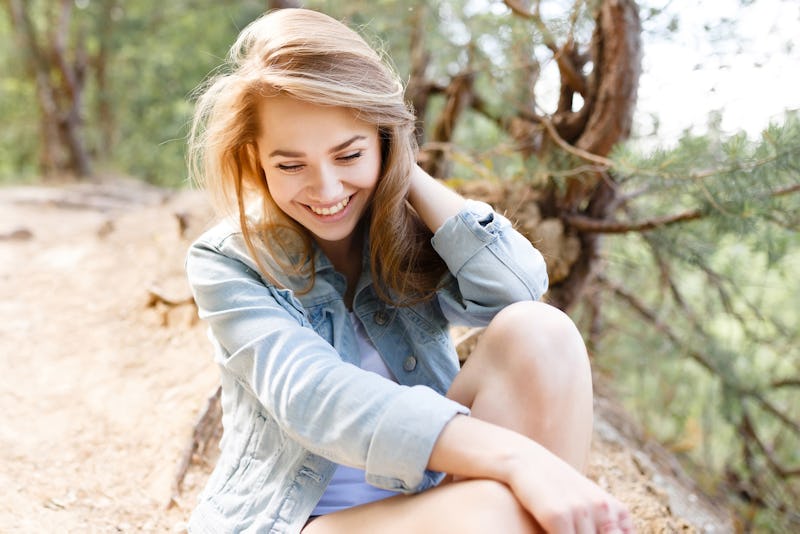 It's a tough reality to come to terms with, but things change. In the same way that neon inflatable furniture is no longer an acceptable bedroom accent, your beauty routine might just fizzle out over time. Understanding the hair and skincare tips for your 20s and 30s that help you address normal skin and hair transitions will keep you on the path for great skin and hair in your 20s, 30s, and beyond.
While you probably woke up on the day of prom to oil and blackheads, you might find that your skin's becoming drier over time and produces a different type of acne. Inflammation-based breakouts replace hormone-related ones, and collagen is no longer as plentiful as it once was, meaning skin can lose a bit of that plump and firm appearance. Your hair produces less oil over time, and damaged strands and split ends become way more apparent.
So, with that all straightened out, where does that leave millennials? Routine and upkeep is still really important, but it's very possible that the same things that worked for you as a teenager just aren't cutting it anymore. If you're not sure where to start, here's a list of the biggest beauty mistakes that 20- and 30-year-olds are making, and what you can do to turn it all around.
You're Fighting Acne The Same Way You Did As A Teen
TreeActiv Anti Acne Sulfur Mask , $16, Amazon
As dermatologist Peter Lio told Glamour, "Adult acne tends to be deeper and more cystic, but our skin gets drier and thinner overall as we age." As a result, harsh products don't cut it anymore — in fact, they might be more irritating than helpful. TreeActiv's anti acne sulfur mask has all natural ingredients, the best of which is sulfur mud, which eases the type of inflammation that's associated with adult acne. It leaves skin looking clear, smells surprisingly good, and has a gentle consistency that's easy to use and won't affect sensitive skin.
You're Skipping The Antioxidants That Keep Skin Elastic
Blueberry Oxygen Facial Scrub , $18, Amazon
In your 20s and 30s, skin starts to lose some of its elasticity and glow as it ages. "Look for products that contain ingredients that have preventative qualities," esthetician Tony Silla told StyleCaster, who recommends "those that are rich in anti-oxidants." This blueberry oxygen facial scrub is absolutely loaded with antioxidants from blueberries, cranberries, and pomegranate. It gently exfoliates while providing your skin with the nourishment it needs to look firm and bright — and it smells incredible, like bathing in berries, just without the stickiness.
You Leave Your Makeup On Overnight
Foxbrim 100% Natural Makeup Remover , $16, Amazon
Forgetting to remove your makeup at the end of the day (or leaving any residue behind) can lead to build-up in pores, uneven skintone, bacteria, and breakouts, and now more than ever, your face is extra vulnerable. Some makeup removers are harsh on skin and contain chemicals and astringents, but this Foxbrim natural makeup remover contains only natural and healthy ingredients, such as grape seed oil, which washes away the most stubborn of makeup while penetrating blocked pores and hydrating skin. Reviewers are calling it the No. 1 best remover because it's extra moisturizing and leaves skin feeling silky smooth.
You Fear Moisturizer Because You Think It Causes Acne
Laritelle Organic Facial Moisturizer , $33, Amazon
As dermatologist Sonia Batra told Glamour, your hormones change as you age, which "make[s] skin drier and decrease[s] its ability to keep moisture in." Dry skin will produce way more oil than it needs, ironically leading to acne. This Laritelle organic facial moisturizer contains loads of vitamins, minerals, and antioxidants from all natural sources to keep skin looking and feeling its best. It provides a velvety-smooth feeling without weighing down skin or clogging pores, which is why reviewers have nothing but good things to say, like "I just love the texture of this cream and how easily it penetrates into my skin leaving it plump and soft to touch."
You think All Blow Dryers Are Created Equal
Berta Professional Negative Ion Hair Dryer , $39, Amazon
Hair damage builds up over the years and strands get more brittle, so if you're going to splurge on anything this year, skip the drugstore dryer and get one that's high quality and ionizing, like this Berta negative ion hair dryer. This built-in innovative technology dries hair much faster (and with less damage) than other dryers, and because it's durable, has three different heat settings, pulls tons of air through its fan, and leaves hair feeling soft and smooth in no time at all, reviewers are giving this one five stars across the board.
You're Exfoliating With Harsh Brushes And Scrubs
Juno Story Konjac Sponges , $8, Amazon
Using aggressive scrubs and harsh brushes can over-do it, says dermatologist Sonia Batra. The over-the-top combo can even cause capillaries to burst. Konjac sponges, like the Juno Story konjac sponges, are ridiculously popular right now because they're made from all-natural environmentally friendly root fibers. This one becomes insanely soft when moistened with water, and gently exfoliates skin while removing impurities — but so carefully, you'll hardly even feel it. This set comes with two pH-balancing sponges, complete with strings and a hook for easy and sanitary storage.
You Leave Your Under-Eye Circles Untreated
Sky Organics Sweet Almond Oil , $15, Amazon
Under-eye circles worsen the older you get, as the skin beneath the eyes gets thinner and more transparent. Almond oil is a great at-home remedy, and Sky Organics sweet almond oil is some of the best quality out there. It's cold-pressed, organic, and 100 percent pure, meaning that all of the oil's skin-plumping and color-evening qualities are still intact. Reviewers say it absorbs in no time at all — both into skin and hair — and this squeeze top bottle makes it convenient for use in the shower or on the go.
You're Skipping The Sunscreen – Or Going With One That's Filled With Chemicals
Beauty By Earth Organic & Natural Sunscreen , $17, Amazon
Celebrity esthetician Renée Rouleau says that, especially in your 20s, sun exposure "is causing a considerable amount of DNA damage to your skin without you even realizing it." Most dermatologists and experts suggest applying sunscreen daily, but I'm personally very uncomfortable with the amount of harsh chemicals in most brands. This Beauty By Earth organic sunscreen is a mineral sunscreen, meaning it's much safer, and it contains a great list of ingredients (like coconut oil) which moisturize and heal your face while they protect. It also won't affect your makeup, goes on smoothly, absorbs quickly, and smells great.
You're Stripping Your Skin's Micro-Organisms With Sterilizing Soaps
The Yellow Bird Soap Bar , $10, Amazon
Your skin has a collection of beneficial micro-organisms living on it (similar to the probiotics in yogurt that make it so good for you) and harsh antibacterial soaps wipe them all out, leaving your skin vulnerable to imbalances and infections. A safe, natural soap like The Yellow Bird soap bar is especially important in your 20s and 30s, because it uses hydrating and essential oils to gently cleanse your skin without disrupting pH or flora. Whether the issue is dryness, oily skin, acne, or infections, this one cures it all. One pleased reviewer even said, "I have been using this soap to wash my face for 5 days and already cannot believe at what a HUGE difference it's made!"
You're Still Using Oil-Stripping Shampoos That Dry Out Hair
Renpure Vanilla Mint Cleansing Conditioner , $7, Amazon
Dermatologist Heather Woolery-Lloyd told Huffington Post that oil glands shrink over time, preventing them from efficiently producing oil. Therefore, hair is much dryer than it was in your teens, and harsh oil-stripping shampoos aren't helping the matter. Renpure's vanilla mint cleansing conditioner is my go-to all-in-one hair cleansing wash because it removes dirt and build-up without touching the natural oils. My strands are more manageable, moisturized, and healthy-looking than they've ever been, and I especially love that it reverses damage, eliminates the need for unnatural shampoos and conditioners, and leaves my hair feeling clean.
Bustle may receive a portion of sales from products purchased from this article, which was created independently from Bustle's editorial and sales departments.
Images: Fotolia (1); Amazon (10)