How To Wear Kylie's New Black Lip Kit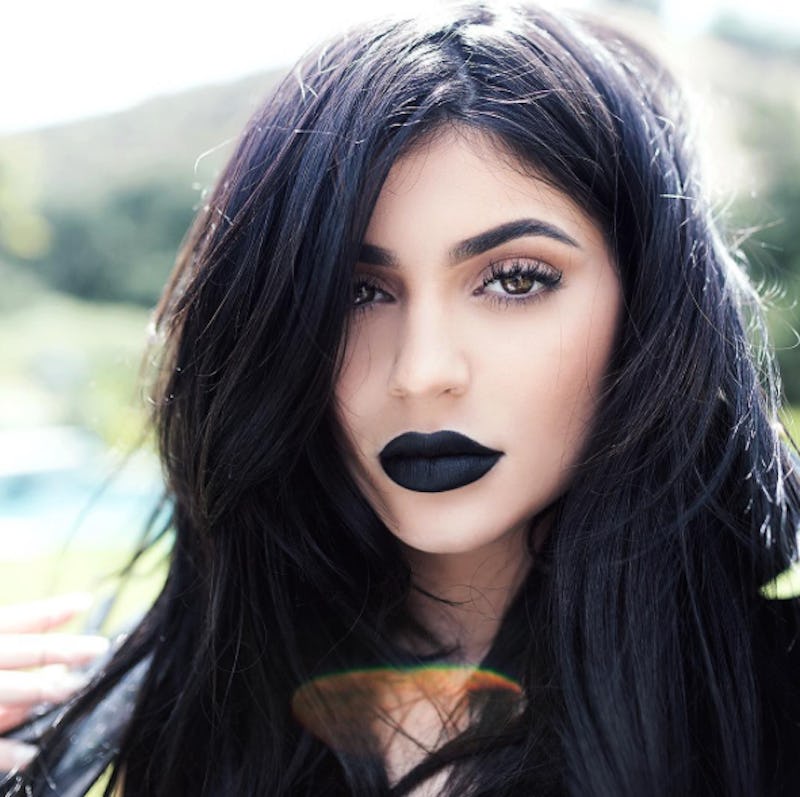 On Tuesday night, Kylie Jenner took to the Kylie Cosmetics Instagram page to tease fans with a surprise after the brand's Insta hit 4 millions followers. What followed: the announcement of Jenner's new black liquid lip kit Dead of Knight. It's a bold color, so if you're wondering how to wear it, wonder no more. To be fair, it's not exactly subtle, and it's not a color for everyone, but with some advice from experts, the right products, and some confidence, anyone can pull off this gorgeous matte black look.
Jenner's launch of Dead of Knight wasn't just a surprise because it was unexpected timing. It also came on the heels of Jenner announcing another black lippie. The Kylie Cosmetics Majesty metal matte was only announced a few weeks ago, and most assumed that the matte metallic lipstick was the ebony hue that her fans had been craving. Turns out that when Jenner wants to make her fans happy, she goes above and beyond.
The announcement of Dead of Knight had Twitter reacting in droves, and many dying to know when the Kylie black lip kit comes out. Fans don't have long to wait, but until then, many seeking duplicates for Dead of Knight may also find that figuring out how to wear a black lippie is a bit more confusing than originally planned.
While black lipsticks are, in fact, already popular, many have never ventured into the dark territory. That makes figuring out how to wear the Kylie's black lip kit Dead of Knight super important to fans. So what are some suggestions?
With A Cut Crease
Those rules that you should go natural on the eyes with a bold lip? Total lies!
With Voluminous Lashes
Stunning lashes, stunning lips.
With A Sharp Winged Liner
Black lip, black liner, all perfection
With A Natural Eye
Traditionally, bold lips call for natural eyes, and if you want to go easy, this is the tutorial for you.
With A Smoky Eye
Come through, smoky eye!
With Color
Color with a black lip? Totally doable.