Summer Essentials For Your Purse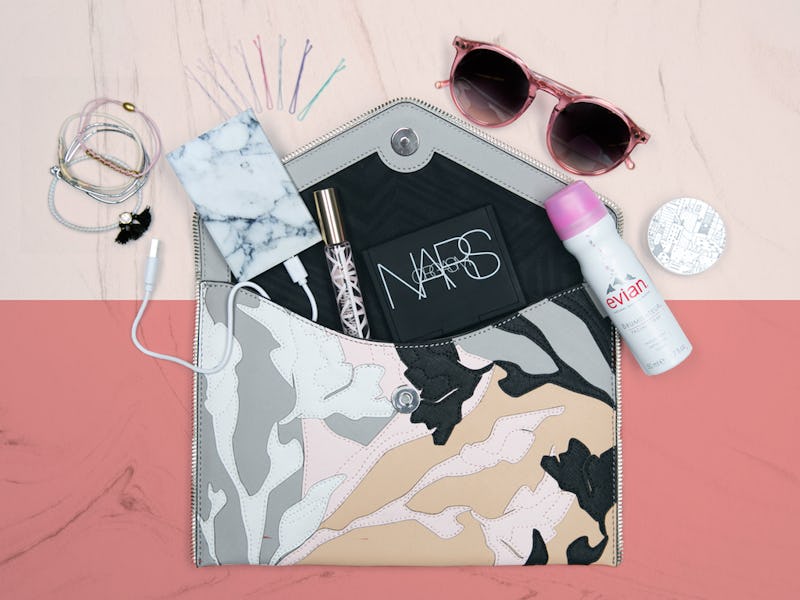 Hello, sweet summer! It's that time of the year: nonstop dancing at music festivals, backyard barbecues, and my personal favorite, frozen fruity cocktails. You've probably become accustomed to transitioning your wardrobe with the seasons, but what about your most prized accessory –– a.k.a., your purse?
My favorite everyday bag often gets weighed down with things that I don't need or use, yet never seem to throw out (or at least leave at home). I'm guilty of carrying around so many toiletries that you'd think I was living out of my bag. But just like your wardrobe, the stuff you carry around in your bag could stand to be updated, too.
We've teamed up with NARS Cosmetics to bring you the ultimate guide on the gear you actually need in your purse this summer. And no, I'm not referring to your wallet, keys, or anything else boring like that. I'm talking about everything from the prettiest portable chargers (for your social media addiction), to travel-sized face mists (for cooling down, now), to a blush that looks great on practically everyone.
Here are eight essentials that'll transform your summer –– and your bag.
Your Favorite Sunnies
Nothing says summer like a flirty pair of shades. Whether you're on the way to the office, laying out on the beach, or cruising in your car–– there's always an excuse to wear sunglasses.
The Perfect Blush
The right blush will warm up your complexion and even add definition to your cheekbones. NARS blush in Orgasm might just be the most universally flattering blush on the market –– and it won't budge during your summer activities. The peachy-pink powder is super-pigmented yet sheer, and it'll create a convincing flush on all skin tones.
A Portable Charger
Welcome to 2016: The year of Snapchat, and phone batteries that always seem to be running at less than 10 percent. This portable charger is thin enough for even the smallest bag and, if you ask me, it's quite chic (and #snapworthy), too.
Chic Hair Ties
I'd say the only downfall to summer is how hot (and sweaty) I get when my hair is down. A set of cuter-than-cute hair ties will give your basic ponytail an upgrade, and keep you hair from sticking to the back of your neck.
On-The-Go Perfume
Rollerballs are small, TSA-approved, and look just as pretty as they smell. Plus, you don't have to worry about over-spraying since you can directly apply the scent to key points of your body (behind your earlobe, back of the neck, wrists, etc.).
Colorful Bobby Pins
Keep a stash of bright bobby pins in your bag to add a fun accent to your outfit, or to simply tuck back the annoying strands of hair falling out around your face.
Facial Mist
It's small, it's scentless, and it'll cool your skin when you're stuck in 100 degree weather. And, did we mention a water-based mist also does a superb job of setting makeup? Goodbye, runny mascara.
Tinted Lip Balm
Sure, lipstick is great and all –– but during hot summer days, you'll want something a littler lighter. A tinted lip balm will give that hint of color you're craving while still hydrating your lips long after the shade has worn off.
This post is sponsored by NARS Cosmetics.
Images: Kenny Suleimanagich/Bustle; Liz Minch/Bustle; NARS Cosmetics