'Stolen': The Best YA Novel You Haven't Read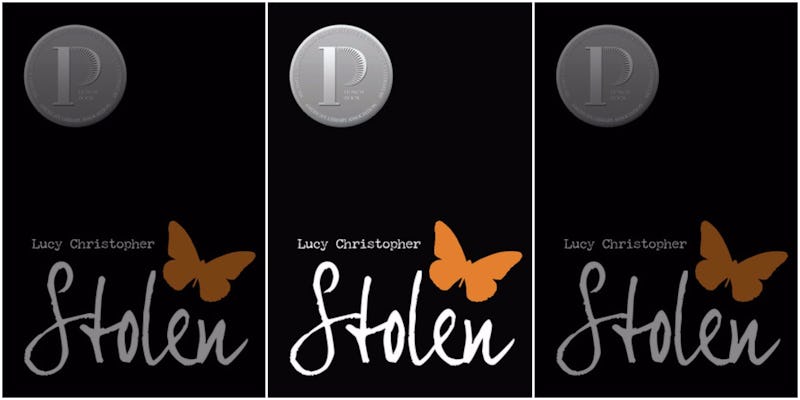 "You saw me before I saw you. In the airport, that day in August, you had that look in your eyes, as though you wanted something from me, as though you'd wanted it for a long time. No one had ever looked at me like that before."
So begins Lucy Christopher's Stolen: A Letter to My Captor , a harrowing tale of obsession, fear, and isolation that's one of the more engaging YA books in recent memory. Impressively, Stolen—Christopher's second novel—is written entirely in second person. Despite its Printz Honor, the book remains one of the best-kept secrets in the YA genre.
Stolen begins when 16-year-old Brit Gemma Toombs scurries off to purchase a coffee after an argument with her parents at the Bangkok airport. Gemma realizes she doesn't have local currency, but only after the drink is thrust in her direction. A handsome, blue-eyed man — Ty, he of the toned arms, scars and rough hands, with tanned skin "as brown as a stretch of dirt," smelling of eucalyptus — in his mid-twenties, who Gemma had noticed was following her, pays her tab. Ty asks how she takes her drink:
"I saw you pour the sugar in, hair falling over your eyes as you bent your head. […] I wonder if that was when it happened. Were you smiling as you did it? I must have looked away for a moment, to watch the planes taking off behind the glass. […] Your hands must have been quick, tipping it in. […] Perhaps it looked like sugar. It didn't taste any different."
A minute or two later, when the drugs take hold, Ty asks Gemma if she'd rather be in Australia than Bangkok. She chuckles, confused by Ty's semi-British, sometimes Australian accent: "You didn't sound like any of those famous Aussie actors […] Sometimes it sounded as though you came from nowhere at all." The haunting sentiment is truer than Gemma wished it to be.
She asks what Australia is like. "You'll find out," Ty replies.
Over the next few pages, Gemma falls into a hazy miasma of too-bright lights, blurry faces, smells, and sights. Ty takes her in his arm, a pseudo-doting boyfriend, and pulls her from airport. When Gemma comes to, she's in the desolate Australian Outback, devoid of buildings, roads, telephone wires, and other people — "Just emptiness. Just heat and horizon."
I first came by Stolen in my MFA program, working on my graduate student presentation, which dealt with the misplaced notion that genre fiction — with emphasis on YA books — can't be both enjoyable and literary. My mentor Hollis Seamon (author of YA novel Somebody Up There Hates You) had just toured with Lucy Christopher. Although Christopher was promoting her novel The Killing Woods, Hollis — a New York Foundation for the Arts Fiction Fellowship recipient, and an English professor at the College of Saint Rose — couldn't stop praising Stolen during our monthly phone calls. In the spring of 2014, I was a 24-year-old who was growing frustrated that genres I'd always naturally gravitated towards — science-fiction, YA, sports-themed fiction, and supernatural fiction, to name a few — were often not deemed serious writing. To put the supposition more accurately: genre fiction could be enjoyable, it could be fun, but it was not literature.
Books like Sherman Alexie's — who's one of the most ardent champions of YA — The Absolutely True Diary of a Part-Time Indian, Markus Zusak's The Book Thief and Stephen Chbosky's The Perks of Being a Wallflower aren't just immaculate and intriguing young adult books… they're fantastic novels, period. With the young adult boom came a redefining of some classic novels; To Kill a Mockingbird, Catcher in the Rye, Fahrenheit 451, and Lord of the Flies are all in the top twenty of NPR's Top 100 Best-Ever Teen Novels.
In the summer of 2014, I was graduating from my MFA program and my brother was finishing his undergraduate degree. Our family decided to take our first overseas vacation to England and Ireland. I decided, as usual, that I'd bring a few books on the trip (far more than I could ever read in 10 days, dangerously close to my luggage being overweight). One of them was Stolen. I finished one book on the flight to Ireland, and started reading Stolen once we got to the hotel. By that night, I'd finished it, and had the sudden urge to re-read. By the end of the ten-day trip, I would do just that.
Stolen is, ultimately, a story about a lonely 16-year-old girl, taken from everything she knows, thrust into a desperate and terrifying situation. Despite Ty's reassurance and meticulous nature — he lives off the land and his reasoning to kidnap Gemma is a juicy one, but no spoilers — Gemma fears for her life at every turn. But then something strange happens… she starts to admire Ty. She starts to empathize with him, even like him. What begins as a similar situation to the kidnapping in John Knowles' The Collector suddenly becomes rife with romance, with lush description of the daunting and desolate Australian Outback and Gemma and Ty's interactions courtesy of Christopher. It's one of the more compelling examples of Stockholm syndrome in modern literature. And as previously mentioned, written entirely in the second person — a feat that shouldn't go unnoticed.
Despite Stolen's popularity in England and Australia, and despite being a Michael L. Printz Honor book (for excellence in young adult literature), Stolen still goes unread and unheralded, at least in terms of what it deserves. It's a compelling, intense story about survival. It's about mental and physical perseverance when, seemingly, all hope is lost. Stolen is the story of one young woman escaping the clutches of a cunning and dangerously endearing predator, written as a tender — yet firm — letter from victim to captor.
If that's not a story worth reading, I don't know what is.