4 Ways To Add Sparkle To Your Braided Looks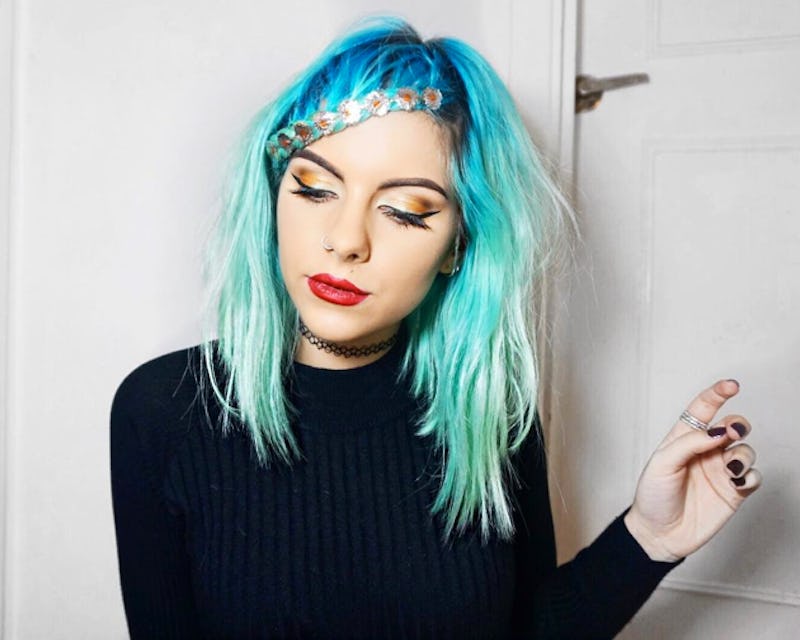 I've always admired my friends who were gutsy enough to get a tattoo. I've been itching to get one for more years than I can count. Embarrassingly, I know exactly which quote, font, and color I'd get, yet I've never been able to go through with it. I blame my indecisiveness and serious fear of commitment. So I did the next best thing: I experimented with flash tattoos, henna, and anything else I could temporarily stick on my body. And naturally, that led to my latest obsession: hair tattoos and gems.
Once you learn how to apply hair tattoos, they're pretty awesome. And don't worry, music festivals aren't the only place you can pull them off. Brands like scünci are selling packs of metallic gold, rose gold, and silver flash tattoos that work just as well on your hair as they do on your skin. Typically, people apply the specially designed tattoos to flat-ironed hair. The application process mirrors the way you'd apply temporary tattoos to your body: place the tattoo on your hair, press a damp cloth on it, wait a few seconds until it adheres, and that's it. It'll stay intact until you decide to wash or brush it out.
But what's even cooler than flash tats and straight hair? Flash tats and braids. In collaboration with scünci, here are some of the best blinged-out, braided combos that are so #Instaworthy, you won't be able to control the urge to try them yourself.
Sideswept Braided Bangs
Ok, I admit. I'll probably never look as cool as beauty blogger Sophie Hannah Richardson with my plain brown hair, but let's take a moment to admire the placement of this faux tattoo. This look works best with third-day hair (as do most braids), so the more knots and dry shampoo, the merrier. Start by French-braiding your bangs toward the right side of your face and securing it behind your ear with a small elastic. Then, choose a motif of your liking (preferably one that is the size of the braid) and simply stick it on.
Double Dutch Braids
So there isn't exactly a tattoo involved here, but how fun are these glitter roots? Begin this look by splitting your hair straight down the middle and Dutch-braiding both sides (like a French braid, only you braid under instead of over.) Then comes the fun part: Apply a load of glitter and gems directly to the roots and spread the sparkle no more than an inch away from your part. For surgical exactitude, use a sturdy makeup brush to paint the glitter on. Happy blinging!
Braided Pigtails
If you have a fear of braids, or simply haven't mastered them, this look is for you. All you have to do is part your hair down the middle and create two easy three-strand braids. Then, apply a flash tattoo like this gold, Native American-inspired arrow down your part. It's so simple, yet makes a statement.
Double Braided Buns
For a fun, off-your-face updo, try a modern take on the classic double-bun look. An easy way to recreate this look is to first pull your hair back into two high pigtails. Then, braid each side, wrap them in a bun, and secure them in place. Switch it up by placing a rose gold tat right down the middle of your part.
This post is sponsored by scünci.
Images: Instagram/@sophiahannahrichardson; (2) Instagram/@nikkilee901/@beautycoach_com; Instagram/@omgartistry