9 Hair Straightening Steps To Never, Ever Skip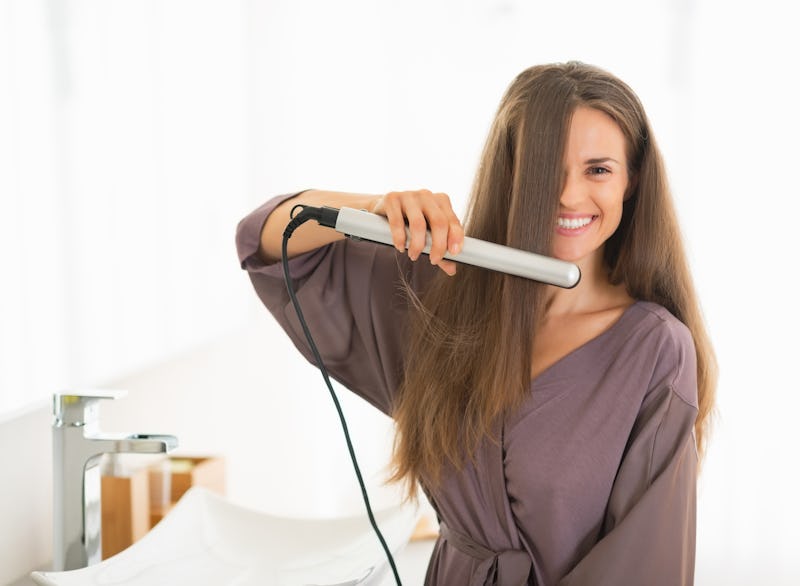 The most appreciated compliment that I receive on a regular basis is, "I had no idea that you straighten your hair every day!" This isn't because I have anything against curly hair, but because it means I'm straightening my hair the right way, in addition to steering completely clear of the most common hair straightening mistakes people make with their hot tools. Oftentimes, if someone uses a flat iron on a daily basis, you can tell — there's breakage, split ends, fly-aways, rough texture, and a general dryness, and it's a tough thing to reverse unless you're willing to chop it all off.
However, my mom scared the crap out of me by informing me (sometime around puberty) that hair straighteners would give my hair a striking resemblance to the scarecrow from The Wizard of Oz. So, I really did my research before I figured out the best hair straightener for my hair type. Consequently, I found the best and most natural ways to protect my hair from heat, and given that my hair is ultra-thin, I wash it every morning, I haven't cut it in four years, not a day goes by that I don't use my straightener, and people still say they had no idea, I'd say all that research paid off.
1. Shampoos Strip Your Oils — Use A Hydrating Cleanser
Healthy Hair Cleansing Conditioner , $19, Amazon
The process of healthy hair straightening starts in your shower. If you're using detergent-based oil-stripping shampoos, your hair has none of its natural moisture to protect itself from heat. I'm a massive advocate of cleansing conditioners, like this Healthy Hair cleansing conditioner because instead of stripping the oils, they cleanse dirt and build-up while allowing your scalp to regulate itself naturally. This one is sulfate-free, paraben-free, fragrance-free, and contains incredible cleansing and hydrating ingredients like Manuka honey that leave your hair soft, manageable, and healthy.
2. Create A Weekly Mask With Coconut Milk To Replenish Proteins
Hoosier Hill Farm Coconut Milk Powder , $12, Amazon
This once-weekly hair mask hack has been a lifesaver for me. You can create an ultra-hydrating and healing mask with Hoosier Hill Farm coconut milk powder, as it's loaded with vitamins and fats that fill up damaged hair strands with healthy proteins. This one's way less messy than using sticky coconut milk because it comes in a powdered form, and it can be mixed with anything and everything to create a smoothing mask that makes hair infinitely more manageable.
3. Towel Dry Your Hair With Bamboo
Women's Bamboo Hair Towel , $10, Amazon
By the time you take a blow dryer to your hair, it should already be 65 percent dry, or you're creating unnecessary damage. This bamboo hair towel is made with 70 percent viscose from bamboo, which makes it softer, lighter, and more absorbent than cotton towels. That means your hair dries way faster with less strand-breaking damage, and it even comes with a little elastic band to keep it on your head and out of your way.
4. Use Avocado Oil As A Heat Protectant
Pure Avocado Oil , $15, Amazon
Pure avocado oil makes an incredible all-natural heat resistant shield, because at 520 degrees fahrenheit, it has one of the highest smoke points of all oils, meaning that it won't break down until it reaches that temperature — and no one's flat iron should be that hot. This one contains absolutely no additives or fillers — just pure and natural avocado oil, filled with vitamins, antioxidants, and fatty acids that heal and protect your hair.
5. Blow Dry (The Right Way) Before You Straighten
Wazor Ceramic Ionic Blow Dryer , $33, Amazon
If you're not blow drying your hair before you straighten it, you're making a huge mistake because at least there's airflow along with the heat. This Wazor ceramic ionic blow dryer is one of the most effective blow dryers out there because it uses ionizing and tourmaline technology to dry your hair faster and with less damage. It's also lightweight and sleek, has several heat settings, and gives even the most stubborn hair a silky-smooth finish.
6. Style With Boar Bristles To Distribute Oil
Styling Essentials Natural Boar Bristles Hair Brush , $13, Amazon
Every brush you use should have natural boar bristles, as they help to evenly distribute your scalp's natural oils to the ends of your hair. This high-quality and durable Styling Essentials natural boar bristles hair brush uses a combination of hair-gripping nylon and oil-distributing boar bristles to style your hair easily and effectively. It's also got an easy-grip wood handle, and even reviewers with extra-stubborn hair say, "This is the first brush that actually styled my hair straighter."
7. Go For An Iron With Ceramic Tourmaline Ion Plates
Professional Ceramic Tourmaline Ionic Flat Iron , $37, Amazon
And, finally, we get to the flat iron. The one you choose should have multiple heat settings and solid ceramic tourmaline ion plates to reduce damage. This Professional Ceramic tourmaline ionic flat iron has all that and more, including a 360 degree swivel cord and one-inch plates, while offering more control without creating excess damage. It's a number one best seller because it provides excellent and well-rounded styling without burning.
8. …Or Try A Straightening Brush
AsaVea Hair Straightening Brush , $36, Amazon
Another great option is a straightening brush, like this AsaVea hair straightening brush. Some find it faster and more effective than a plate-based straightener, as instead of styling only the outermost strands, it gets in between hair to straighten and smooth it in smaller portions. It's also made with a soft silicon head to prevent burns, and reviewers absolutely love it because it's fast, easy, and styles without kinks and split ends.
9. Finish Off With A Six-Oil Hair Serum
Organic Frizz-Free Hair Oil Serum , $15, Amazon
Once you're all done styling, it's really important to finish off with an anti-frizz serum that's going to replenish some of the moisture and nutrients you lost while straightening. This organic frizz-free hair oil serum is formulated with only the best and most natural cold-pressed oils (like jojoba and argan), and contains no additives, chemicals, artificial fragrances, or parabens. One particularly excited lady says, "This product is beyond any doubt AMAZING… I call this food for my hair."
Bustle may receive a portion of sales from products purchased from this article, which was created independently from Bustle's editorial and sales departments.
Images: Fotolia (1); Amazon (9)