8 Hair Removal Products For All The Tricky Spots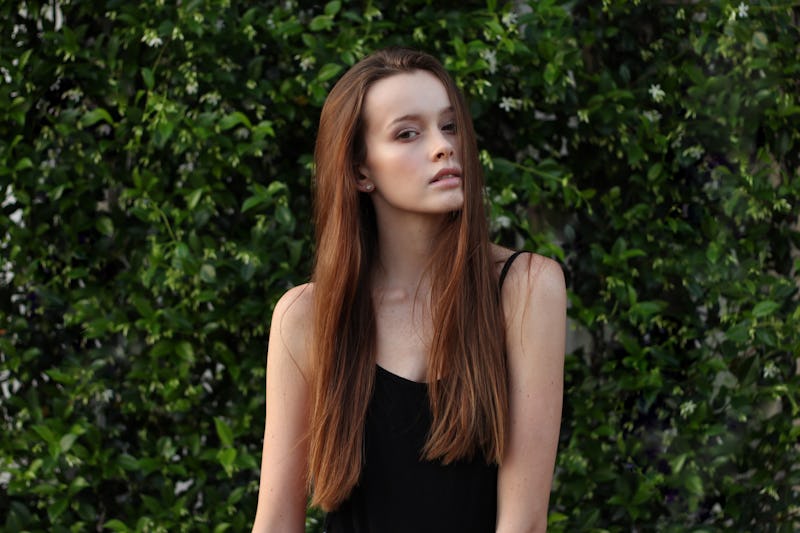 Let's get something straight real quick: Body hair is entirely normal. It's also totally normal to want to get rid of stubborn body hair in tricky places with great body hair removal products that actually work, if that's what floats your boat. People regularly Google these questions in private, as if removing body hair at home should be a secret (hint: It's not, and people have hair on their bikini lines, arms, legs, armpits, and elsewhere for some pretty important reasons).
Not only does growing body and facial hair help to facilitate our bodies' sweat cooling mechanisms, but it plays a role in personal hygiene, and some even speculate that removing bikini line body hair could cause skin chafing. No wonder women's no-shave moments are more popular than ever. That being said, most women have hair on their arms, legs, toes, underarms, and nose. (Yes, some people have body hair that's more prominent than others, but I promise you, it's still there.) If you're all for leaving it there, then good on you, but if you'd rather snap up an at-home body hair removal tool, here are a few innovative tools to help you achieve smooth hairless skin, anywhere on your body.
1. For Facial Hair, Reach For An Epilator
Emjoi Tweeze Facial Hair Epilator, $12, Amazon
Rather than shaving, which causes stubble, an epilator is a great tool that rolls over your skin, catching the hair and pulling it out by the root. This Emjoi Tweeze facial hair epilator has a small head for detailed use on the face, it leaves skin hairless for much longer than other options, and it's way less painful than it sounds. It's battery operated, so it's great for travel, and some reviewers say they'll never go for a wax again.
2. Shave Anywhere With Absolutely No Nicks
Electric Epilator Shaver, $22, Amazon
This number one new release is an electric epilator shaver, and it can remove hair from anywhere on the body (right down to your toes) with its massaging system and three-in-one blade design. It glides over your skin, removing even the shortest hair with no pain, and people love that it's super gentle and convenient, whether you're shaving wet or dry.
3. Tackle Stubborn Nose And Ear Hair
Professional Water Resistant Steel Nose Trimmer, $18, Amazon
For trimming nose hairs (or even eyebrows and ears), there's this water-resistant steel nose trimmer. It's made from durable stainless steel that can be used in the shower for easy rinsing, and it creates a smooth cut with no nicks or pulling. People say it's super easy to use, they love the bright built-in LED, and it's significantly more reliable than other ones they've used.
4. Tweeze Multiple Hairs At The Same Time
Qstick Facial Hair Remover, $12, Amazon
When it comes to quick and easy hair removal on the face, few tools are as simple and effective as the Qstick facial hair remover. It's pretty much a giant spring that plucks multiple hair from the follicle simultaneously, leaving you with super smooth skin. It's less painful and takes less time than waxing and plucking, and the key words in the reviews section: "It works."
5. Buff Away The Hair On Your Arms
Hair Off Mitten, $21, Amazon
If you're looking for something that works without any chemicals or harsh ingredients, check out this Hair Off mitten. Its coarse but gentle texture buffs away hair and extends the time it takes hair to regrow, and it's great for using on everything from your arms to your legs. It also exfoliates while it works, and all you have to do is brush clockwise and then counterclockwise.
6. Use Brazilian Wax For Coarser Hair
Gigi Brazilian Waxing Kit, $35, Amazon
This Gigi Brazilian waxing kit gives you everything you need to remove even the coarsest hair from all areas of the body. It comes with a warmer, some wax, applicators, pre-epilation oil, post-cooling gel, and a how-to DVD to give you a salon-style wax in the comfort of your own home. Reviewers say the smoothness lasts super long, and that they've seen this exact kit in some salons.
7. Trim Hair All Over With This All-Inclusive Kit
Ultimate Body and Bikini Grooming Kit, $35, Amazon
This body and bikini grooming kit has everything you need for the most delicate areas. The set comes with a bikini trimmer, angled foil shaver, exfoliator, gentle trimmer, detail trimmer, length guide, and beauty bag for detailed work from head to toe. You can wash everything in the sink, and people love that it's easy to charge and makes it easy to travel.
8. Upgrade Your Razor For A Body-Hugging Shave
Gillette Women's Venus Swirl, $15, Amazon
Sometimes, the best tactics are the most obvious, but while this Gillette gadget might just look like a regular disposable razor, the innovative part is the swivel ball technology, which allows for a close shave anywhere on the body. It contours to your skin in even the hardest to reach places without nicks or irritations (like bikini line, tummy, toes, or ankles), and its thinnest blades capture virtually every single hair.
Bustle may receive a portion of sales from products purchased from this article, which was created independently from Bustle's editorial and sales departments.
Images: Christopher Campbell/Unsplash; Amazon (8)