NARS' Limited Edition Cheek Palette Is Coming Soon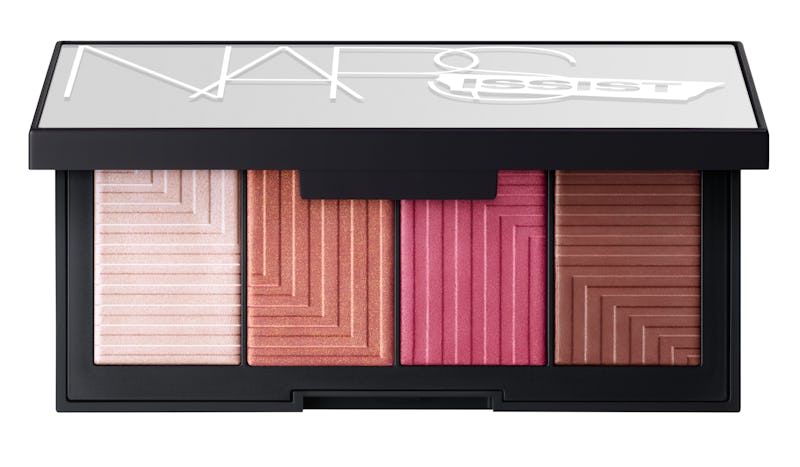 If you thought summer launches were long gone, then think again. NARS Cosmetics created a limited edition cheek palette made with their dual-intensity formula, and it's coming just in time for all of your warm-weather festivities. This versatile palette has everything you need to do up your entire face, so you'll definitely want to mark your calendars.
As if the NARS 2016 Summer Collection wasn't already filled with everything you needed, they've done it again. This time, they're using their dual-intensity formula for an all-in-one #NARSissist Face Palette using brand new shades. With a highlight, blush, and two different contour shades, you can look on-point all year long. The four new face shades — Soft Tulle, Damask with Gold Sheen, Peony, and Titian — are super versatile and would look great on the lids as well.
The best part is that you don't have to wait much longer to get your hands on it. The $59 face launches on the NARS site on July 1, plus you can get your hands on it at Sephora on August 1. You'll have to act fast though, because this limited edition palette won't be around for long. From just one look at the gorgeous product, you'll be setting your alarms for it's launch.
I told you it was gorgeous! This quad has everything you need to get a full face look. The double contour shade makes it perfect for a wide variety of skin tones. The wet/dry formula is also designed to be universally flattering.
If that's not enough to get you excited about the heat of summer, then I don't know what is. Four brand new shades and an on-the-go compact all in one? Yes, please!
When you break down the $59 price to each individual product, you're spending about $15 on each. That means you're paying half of what you would for an individual product. Go mark your calendars now!
Images: Courtesy NARS (2)